Aluminum Chrome Plated MAG Casters for Rousseau Cabinets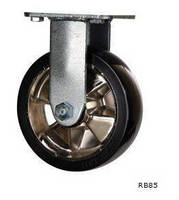 Rousseau is proud to present our new 6" aluminum chrome plated MAG casters. The casters are available in three different versions; rigid, swivel and swivel with total brake, each with a 1000 lb capacity. Made from polyurethane, the casters are non-marking - a detail that will surely please many users. We're certain that you will be struck by the polished look they will give to your tool boxes.

The MAG caster is an impressive accessory given the capacity. Rousseau spent months researching the casters before finding this superior quality product. It was important that the image of the casters reflect both a robust and quality product. Following numerous tests, it was found that a fully loaded rolled easily.

More from Mechanical Power Transmission