Safety and Security Enclosures
Altronix Trove2SL2 Enlcosure comes with mounting hardware.
Press Release Summary: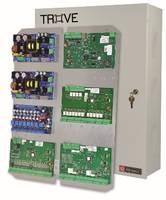 Altronix Trove2SL2 Enlcosure allows installer to integrate power supplies and accessories with Sielox access controllers. Unit reduces installation time, simplifies board layout and wire management. Trove2SL2 features a cam lock and tamper switch. Product is enhanced with emergency lockdown and crisis management feature for continuous operation.
---
Original Press Release:
Sielox Announces Availability of Custom Altronix Access and Power Integration Solution
Enhances Value Proposition and Cost Efficiency for Integration Partners
Sielox LLC announces that its advanced access control portfolio now includes the Trove™ Access and Power Integration Solution from industry partner Altronix, the recognized leader in power and data transmission products for the professional security industry. The addition of the Altronix Trove to the Sielox product line exemplifies the company's continued leadership in offering layered security technologies with the highest levels of reliability and cost-effectiveness.
The Altronix Trove2SL2 enclosure and backplane now available from Sielox allows installers to easily integrate Altronix power supplies and accessories with Sielox access controllers. This simplifies board layout and wire management, reducing installation time and labor costs while enhancing performance and efficiency. Altronix Trove2SL2 includes a cam lock, tamper switch and mounting hardware.
"The addition of the Altronix Trove Access and Power Integration Solution provides our systems integrators with an exclusive, extremely efficient and cost-effective means of deploying systems while lowering overall costs," said Karen Evans, President, Sielox LLC.
Given all the new capabilities that access control and emergency communication systems provide, power and infrastructure requirements can sometimes be overlooked. Yet, power in combination with access control products, such as locking devices and readers with emergency lockdown and crisis management features, are critical to ensuring continuous operation and reliability.
"Partnering with leading security industry manufacturers like Sielox to deliver best-in-class access control is extremely important, and a key component of our go to market strategy," said Alan Forman, President, Altronix Corporation. "Providing integrators and installers with the ability to easily combine Altronix power and accessories with Sielox access controllers further increases our reseller partners' value proposition."
Among Sielox's industry-leading solutions are the CLASS™ (Crisis Lockdown Alert Status System) emergency notification and lockdown solution; the Pinnacle Advanced access control solution; and the 1700 Intelligent Controller that fully integrates with Schlage® AD, NDE, and LE wireless locks.
Both Sielox and Altronix design and manufacture their products in the U.S., and have earned excellent reputations for unparalleled quality, reliability and customer service.
For more information about Sielox, visit www.Sielox.com, email [email protected] or call toll free 800- 424-2126.
About Sielox
Since 1979, Sielox has designed and manufactured innovative security layer systems including Pinnacle® Advanced Access Control, 1700 Intelligent Controller with lockdown and serviceability, Sielox AnyWare™ Fast & Easy access control and the award-winning Sielox Class™ Crisis Lockdown Alert Status System. Our select business partners integrate scalable Sielox and OEM solutions for commercial, education, financial, government, utilities, retail and healthcare markets. Sielox provides intuitive "Made in USA" solutions that exceed today's complex and demanding security environments.
About Altronix
Altronix Corporation is the leading designer and manufacturer of quality low voltage electronics for the video surveillance, security, fire, access control and automation markets. The company continues to enhance its series of products that deliver "More than just power" including LINQ™ Network Communication Technology, Trove™ Access and Power Integration, Pace™ UTP/Ethernet Long Range Ethernet Adapters, eBridge™ Ethernet over Coax Adapters, eFlow™ Power Supply/Chargers, NetWay™ PoE Solutions, NetWay Spectrum Fiber Solutions, HubWay™ UTP Video Solutions, VertiLine™ Rack Mount Power Solutions, ReServ™ UPS Series for video surveillance, WayPoint™ Outdoor Power Supplies, and StrikeIt™ Panic Device Power and Control. Altronix's U.S. corporate headquarters located in Brooklyn, NY with the latest manufacturing technologies for the highest levels of quality and performance. Altronix is an ISO 9001 registered firm. Altronix products are manufactured in the U.S.A. and carry a lifetime warranty. Visit Altronix at www.altronix.com.