Altronix Showcases Outdoor NetWay(TM) Managed PoE+ Switches at ASIS 2016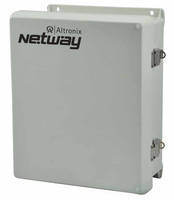 NetWay4EWP Managed PoE+ Hardened Switch with 1GB Fiber Uplink for Long Distance Applications



NetWay4EWP



Orlando, FL – Altronix, the recognized leader in power and transmission solutions for the professional security industry, is displaying new managed PoE+ indoor and outdoor hardened switches here at ASIS 2016. The new feature-packed NetWay4EWP features a 1GB SFP (fiber) port, 115/230VAC input, four PoE+ ports at 30W full power per port, and integral battery charging in a NEMA 4X IP66-rated enclosure. NetWay4EWP also includes Altronix's innovative LINQ™ Technology which fills the void in network communications by allowing you to monitor, control and report power and diagnostics from anywhere.



"Our new NetWay4EWP Managed PoE+ Switches provide a practical and cost-efficient means of deploying IP cameras outdoors at challenging distances," said Alan Forman, President, Altronix Corporation. "This new Altronix product is the perfect solution for deploying, monitoring and managing IP cameras and devices for transportation, campus and other demanding applications in remote locations."



Additional new models include the NetWay4EWPX with a NEMA 4X, IP66 Rated enclosure that accommodates batteries for applications where battery back-up is required; the NetWay4EX indoor enclosure that accommodates batteries; and the NetWay4EPL four port switch and power supply on a backplane for easy integration into system enclosures.



All NetWay PoE solutions carry a lifetime warranty and are made in the U.S.A. For more information on Altronix's extensive line of products, please visit www.altronix.com.



About Altronix

Altronix Corporation is the leading designer and manufacturer of quality low voltage electronics for the video surveillance, security, fire, access control and automation markets. The company continues to enhance its series of products that deliver "More than just power" including LINQ™ Network Communication Technology, Trove™ Access and Power Integration, Pace™ UTP/Ethernet Long Range Ethernet Adapters, eBridge™ Ethernet over Coax Adapters, eFlow™ Power Supply/Chargers, NetWay™ PoE Midspan Injectors, HubWay™ UTP Video Solutions, VertiLine™ Rack Mount Power Solutions, ReServ™ UPS Series for video surveillance, WayPoint™ Outdoor Power Supplies, and StrikeIt™ Panic Device Power and Control. Altronix's U.S. corporate headquarters located in Brooklyn, NY occupies over 150,000 square feet, with the latest manufacturing technologies for the highest levels of quality and performance. Altronix is an ISO 9001 registered firm. Altronix products are manufactured in the U.S.A. and carry a lifetime warranty.