Alternator Power Distribution System targets marine engines.
Press Release Summary: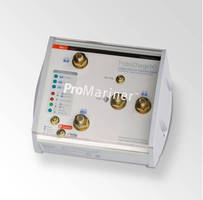 ProIsoCharge zero-volt-loss battery isolator digitally controls power distribution of boat's engine alternator while protecting integrity of main engine start battery. Able to charge up to 3 battery banks from single alternator, it allows boaters to charge batteries and use alternator's output to power onboard marine electronics while cruising. Status display features warning LEDs that illustrate high and low alternator output, over-voltage protection, and high voltage conditions.
---
Original Press Release:

Promariner Debuts ProIsoCharge Series



Marine Charging Systems Leader Announces Intelligent Alternator Power Distribution Systems

Portsmouth, N.H. - ProMariner, an industry leader in the design and manufacture of on-board marine charging systems, introduced today its next generation ProMar Digital Performance Charging platform, the ProIsoCharge Series. An intelligent, zero volt loss battery isolator, the ProIsoCharge digitally controls power distribution of a boat's engine alternator while protecting the integrity of the main engine start battery. The Series can charge up to three independent battery banks from a single alternator. For dual engine applications the new ProIsoCharge offers a 2-alternator input model with up to four battery banks. The innovative ProIsoCharge delivers isolation with no loss in voltage to maximize charging efficiency, ensuring fully charged batteries, faster charge times, and significantly boost reserve power performance for all batteries onboard. ProIsoCharge allows boaters to continue to charge batteries and use the alternator's output to power onboard marine electronics while cruising.

Featuring intelligent digital software monitoring of battery banks and alternators, the ProIsoCharge not only isolates and charges battery banks with zero voltage loss, it also provides priority charging to a battery bank that is under loaded by taking fully charged batteries offline. Unlike traditional diode-based isolators, the all-in-one compact and efficient design eliminates the need for multiple voltage sensitive relays to charge multiple battery banks simultaneously, thus saving boaters space and boat builders cost by significantly reducing installation times. Ensuring the ultimate performance and charging speed, the system eliminates typical alternator voltage loss of up to 0.6 VDC that is also commonly associated with diode-based isolators. All ProIsoCharge models provide an active charging and battery bank status display with a highly visible warning LEDs that illustrate high and low alternator output, over-voltage protection and high voltage conditions that may be present on any one of the connected banks. In addition the alternator's distribution system features ProMariner's innovative Distribute-On-Demand(TM) battery bank management capability, which only activates with ignition power on. The ProIsoCharge is option ready for alternators equipped with advanced regulators.

"The ProIsoCharge line incorporates technology that changes the industry's traditional methods of isolating and charging multiple house & accessory battery banks from single or dual alternators with absolutely no voltage loss," said Gerald (Jerry) Demirjian, partner & senior vice president, ProMariner. "Ideal for larger power, sail and sport fishing boats, our fully-digital, software-based battery isolator ensures boaters' charging systems are optimized for the best, most efficient performance, resulting in longer life battery, maximum battery bank reserve power, and reduced maintenance and replacement costs. Best of all, the technology delivers significant cost savings to boat builders by being a full-featured single product and requiring reduced installation time. When used with ProMariner's new ProNautic P series, boaters can enjoy full charging capability both on the water and while connected to shore power."

The ProMariner ProIsoCharge Series consists of fourteen models named with numerals to denote to the maximum DC amps per alternator input, the number of alternator inputs and battery outputs, respectively. The 12-volt models include the ProIsoCharge120 1o2, ProIsoCharge180 1o2, ProIsoCharge120 1o3, ProIsoCharge250 1o2, ProIsoCharge180 1o3, ProIsoCharge250 1o3 and ProIsoCharge130 2o4. The 24-volt models include ProIsoCharge60 1o2, ProIsoCharge100 1o2, ProIsoCharge60 1o3, ProIsoCharge150 1o2, ProIsoCharge100 1o3, ProIsoCharge150 1o3 and ProIsoCharge80 2o4. Constructed with a modular design for easy installation, the system includes all terminal stud insulator boots and a protective snap on safety cover. The ProMariner ProIsoCharge Series has built-in ignition protection, is dust and water resistant to the IP66 standard and is protected by a 5-year warranty.

Pricing and Availability:

ProMariner's ProIsoCharge Series models range in price from US $159.99 to US $349.99, and are available for purchase from ProMariner's extensive dealer and retail network in the United States, Canada and Europe. For more information on the ProIsoCharge Series, ProMariner and its entire product line of marine charging systems, or to locate a dealer, please contact 603-433-4440 or visit www.promariner.com.

About ProMariner:

Based in Portsmouth, New Hampshire, ProMariner(TM), is a 32-year-old industry-leading designer and manufacturer with innovative and feature rich, software-based and digitally controlled charging systems, galvanic isolation products, marine grade power inverters and marine accessories. ProMariner's depth of product is the broadest in the industry, delivering charging solutions for open water cruising, sailing, saltwater sport fishing, and fresh water recreational sport and tournament fishing. ProMariner is also a leader in ABYC compliant galvanic isolation systems, digitally controlled zero volt battery isolators, corrosion control testers, handheld digital test meters, waterproof marine binoculars, AC plug holders and True Power marine pure sine and modified sign wave combination chargers/Inverters. www.promariner.com.

More from Architectural & Civil Engineering Products