Alpine Style Conveyor Reduces Downtown and Maximizes Production
Press Release Summary: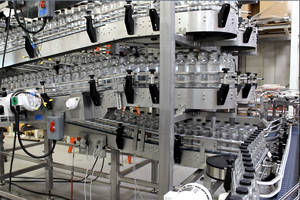 The alpine style accumulation conveyor solution recently built from Multi-Conveyor was designed using a combination of both automation and space minimization. The conveyor is able to detect and accept various sizes of bottled salad dressings. It is controlled by photo-eyes and the machinery contains proximity switches, solenoids and filter regulators. The conveyor has the ability to smoothly move products both inclining and declining, through lane transfers and or through side-to-side conveyor transfers.
---
Original Press Release:
Alpine Accumulation Defers Product Up to 4 minutes of Off-Line Production
Winneconne, WI - Multi-Conveyor (www.multi-conveyor.com) -  Multi-Conveyor recently built this single lane, off-line accumulation, space-saving, Alpine-style conveyor to detect and accept various sizes of bottled salad dressings. (Note product shown in the video is for demonstration purposes only.)
Accumulated product will be staged and allowed to be redirected towards downstream equipment when upstream product flow is halted, allowing the accumulator to empty. The system will stop and restart accumulation as designed. The customer does have ability to override and force all product to go into the accumulator using our controls. 
The alpine is controlled by photo-eyes, proximity switches, solenoids and filter regulators. When triggered, pneumatic clamps will extend and divert product traffic directly into the vertical accumulator.  Additional manual shut-offs were also installed.
Watch how this single bottle maintains stability when it is not supported by bottles on either side or in a row. The system smoothly moves product on the accumulator, both incline and decline, through lane transfers or jogs as required for proper side-to-side conveyor transfer with ease and confidence.
The line employs non-powered corner disk assemblies for reduced chain loading, minimizing motor sizing which results in less power requirements - which saves money.  Corner disks will improve carry chain wear and provide more desirable conveying performance in radius curves.
Upon exit the product enters a multi-strand chain transfer for 2:1 product merge.
Alpine/accumulation designs maximize production in your facility by using the most comprehensive combinations of automation and space minimization.
About Multi-Conveyor
            Multi-Conveyor is a leading manufacturer of standard and custom conveyor solutions for End-Users, Integrators, Engineering firms, OEM's and Contract Packagers across multiple markets and industries.  Specializing in conveyors that assist in packaging food, beverage, dairy, pharmaceutical, chemical, industrial, automotive and material handling industries, our customers report they select Multi-Conveyor for concept/design, engineering skills, quality product, best value and prompt delivery schedules.
Multi-Conveyor excels in stainless steel and mild steel construction conveyors for table top chains, modular plastic belts, and fabric belting. We also design and provide the control devices, systems and panels with our in-house control department. All of these construction designs and technologies can be found on our website at www.multi-conveyor.com.
For more information about Multi-Conveyor for your editorial or publication purposes, please e-mail questions to cmiller@multi-conveyor.com.