Almen Strips meet aerospace specification requirements.
Press Release Summary: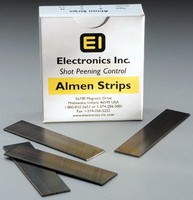 Used to quantify intensity of shot stream during shot peening process, Almen A, N, or C strips are available in Grades 3, 2, 1, and 1-S. They can be provided to any specification, from standard MIL to rigid aerospace, and conform to width, height, thickness, flatness, and hardness requirements. Pre-qualified and ready-to-use, products are subject to heat treatment process that promotes control of hardness and flatness while eliminating decarburization potential.
---
Original Press Release:

Electronics Incorporated Announces Launch of New Almen Strips



Mishawaka, Indiana - (December 13, 2007) - Electronics Inc. (EI), a manufacturer of products that control and improve shot peening processes, has announced the launch of their own brand of Almen strips.

EI now oversees every aspect of the manufacturing, grading and testing of their Almen strips. Before manufacturing the EI Almen strips, EI purchased the strips from other sources and then graded and packaged the strips for re-sale.

Due to increased sales to the aerospace market, EI required improved quality control and larger inventories than available from suppliers. "Manufacturing Almen strips that meet aerospace specifications is a very demanding process," said Jack Champaigne, president of Electronics Inc. "We've been distributing Almen strips since 1987 and we have built a customer base that requires large inventories and tight quality control. We worked for several years on our own brand to make sure that every aspect of our strips exceeds our customers' needs," he added.

EI can provide strips to any specification-from standard MIL specifications to rigid aerospace specs-EI strips conform to width, height, thickness, flatness and hardness requirements. EI's Almen "A", "N" or "C" strips are available in Grades 3, 2, 1, and 1-S and are pre-qualified and ready-to-use. Additional benefits of the new strips are due to EI's heat treatment process that provides improved control of hardness and flatness as well as eliminating the potential for decarburization.

The new strips are now being shipped worldwide and are in use in major aerospace facilities.

About Almen Strips and Shot Peening
An Almen strip is a thin strip of steel used to quantify the intensity of the shot stream during the shot peening process. Shot peening is a cold-working process in which a metal surface is peened to induce compressive stresses and thereby improve fatigue life. Shot peening is used in aerospace, automotive, mining, medical and other industries that need to improve the fatigue properties of metal components.

Company Information
Contact: Tom Brickley (tom.brickley@electronics-inc.com)
Electronics Incorporated
56790 Magnetic Drive
Mishawaka, Indiana 46545
(574)256-5001 or 1-800-832-5653
www.electronics-inc.com

More from Laboratory and Research Supplies and Equipment