Alliance Plastics adds 206 New Nylon Rivets in 5 different styles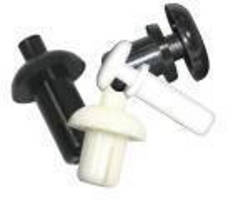 Erie, PA - New to Alliance Plastics is a series of Nylon Rivets totaling 206 new parts in 5 different styles. They are all manufactured out of black and white Nylon 6 material. All of the rivets carried by Alliance Plastics are removable from the bottom side and two styles are made for easy removal from the top side. Nylon is resistant to oil, rust/corrosion, abrasion and chemicals making it a smart alternative to metal. It is also lightweight and provides electrical insulation (due to its high dielectric constant) and vibration resistance. All of our new nylon rivets can be installed by hand as no tools are required.

The most standard and common style of rivet is the snap rivet that is designed for fast and easily installation. The round head provides a clean, finished look. Push rivets are the second most common type of rivet following the snap rivets. These rivets are installed by placing the rivet into the hole and then pushing the center plunger down. This forces the legs to expand and lock the rivet into place. The flat head rivets are designed for countersunk surfaces to provide a flush finished surface.

Of the new line of rivets, we offer two styles that are specifically made to be easily released by hand from the top side of the part. This is an ideal solution if maintenance work is needed and requires the removal of the panel the rivet is fastening down. Both styles can be removed and reused numerous times. The releasable snap rivet line is molded with fingertip grips on the head. The other option for releasable rivets are our line of snap latches and grommets that are fancier style of finger pull releasable rivets. They are offered in 3 different head styles and 4 different grommets for various panel thicknesses and hole sizes. The grommet and plunger are sold separately to allow for mixing and matching, letting the buyer to choose the best combination for their application.

About Alliance Plastics

Alliance Plastics is a manufacturer and distributor of protection and finishing components for a wide range of industries and applications. Alliance Plastics operates predominantly in the United States, Canada, Mexico and Brazil but has a global presence through distribution in Europe and Asia.

Formed in 1968, Alliance Plastics employs more than 200 people in 10 locations throughout North and South America. The company's headquarters and primary manufacturing site are located in Erie, Pennsylvania, where significant investment in information technology, production machinery, tooling, and warehouse facilities drive ongoing improvements in customer service. Additional manufacturing operations were incorporated into existing distribution operations at the Sao Paulo, Brazil site in 2006. This site anchors the company's presence in the region.

For more information or to request free samples of this product, visit www.AlliancePlastics.com , email sales@allianceplastics.com or call 800-551-2052. To request our new catalog detailing 2010 NEW PRODUCTS visit www.AlliancePlastics.com/catalog. All orders placed before 3pm EST will be shipped the same day from one of our 8 regional locations throughout the US and Canada.


More from Architectural & Civil Engineering Products