Miscellaneous Fabrics and Cloths
Allegorithmic Creates 30 New 'Technical Fabric' Materials for Sportswear Designers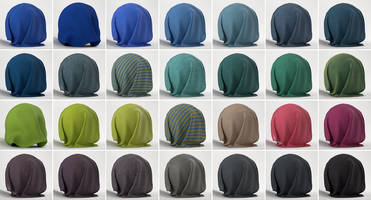 Scanned, Fully Customizable, 4K Materials for Fashion and Design; Ready-to-Use Material Library Expands to Nearly 1,200 Options
CLERMONT-FERRAND, France – February 22, 2018 – Today, Allegorithmic introduces a new collection of 4K sportswear materials to Substance Source, bringing even more real-world fabrics to the ever-expanding library. Designers can experiment with 30 new materials created to mimic the types of technical fabrics used in modern activewear, rapidly inserting them into designs to create and customize clothing meant for the rigors of sports and other demanding lifestyles.
Each material was created through high-res scanning, resulting in the accurate reproduction of the most common attributes found in technical fabrics including fibers, knits, weights and weave patterns. The scans were then processed using Substance Designer's dedicated scan processing pipeline, creating a procedural mask capable of isolating the separate elements to make them each tweakable. Designers can use the materials as is, or modify fabric parameters - including colors, glossiness or the metallic aspect of the fibers - to create infinite variations.
"We wanted to offer designers ready-made technical weaves and knits," said Nicolas Paulhac, Product Manager and Color, Material and Finish Designer at Allegorithmic. "This enables a designer, or any other artist that uses fabrics in their work, to explore new possibilities and create collections right away without sacrificing a bit of realism."
The new sportswear materials were created to mimic the increasingly high-tech and varied nature of sportswear clothing, where fabrics must breathe and offer maximum durability to stand out. The collection also reflects the wide variation of fabric weaves athletes need, from the thicker materials found on shoes to the sheer materials used on lightweight outfits, usually favored by those in warmer climates in need of breathable materials.
The new sportswear materials complement the massive Textile Collection released in 2017, which introduced the first professional-grade textiles to Substance Source. Today, Substance Source users can access nearly 1,200 materials, ensuring that users can quickly find photorealistic assets for use in existing projects, or as customizable baselines for creative ideas and designs. More materials will be added to the Substance Source library in the coming months.
To celebrate the launch, Allegorithmic's Integration Product Manager, Wes McDermott, will lead a live YouTube session https://www.youtube.com/watch?v=c9itx_9p5AA, depicting the creation process behind the Spandex Heather Jacquard Terry material. Viewers will be shown Allegorithmic's high-quality scanning techniques, before continuing onto to Substance Designer for processing tips. The webinar begins at 11 a.m. PST / 2 p.m. EST today.
To see the new materials, please visit: Substance Source https://source.allegorithmic.com/#/substances/new.
Pricing/Availability
Access to Substance Source is available through the Substance plan, payable on a monthly or annual basis. Users can download 30 Substance Source materials per month, and use the latest releases of Substance Designer, Substance Painter, and Substance B2M for $19.90 (Indie) or $99.90 (Pro). Pros can also purchase the entire Substance Source library, along with one year of updates, for $4,990.
About Allegorithmic
Allegorithmic is the industry leader in 3D texture and material creation technologies. More than 100,000 users in the domains of games and entertainment, film and VFX, architecture, and design rely on Allegorithmic's award-winning Substance texture and material authoring software for developing the next generation of digital content. Clients include: Activision, Sony Computer Entertainment, Electronic Arts, Microsoft, Ubisoft and Gensler. Founded in 2003, Allegorithmic is based in France with offices in Clermont-Ferrand, Lyon and Paris, and has global offices in Los Angeles, Montreal, Singapore and Seoul.
More from Waste Management & Waste Handling Equipment