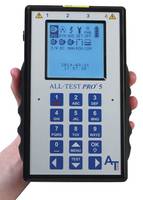 Finally! Predictive maintenance made VERY easy! Significantly increase your plant's profitability with The AT5™ motor circuit analyzer, which offers a complete electric motor health analysis in minutes.
The ALL-TEST PRO 5™ tests all types of motors, including induction, synchronous, AC, DC, brushless DC, servo and wound rotors, as well as single phase motors. The health of all motor components is evaluated, including, but not limited to: induction windings and rotors; DC field windings and armatures; and field and rotor coils in synchronous motors. Single and 3-phase transformers, pole and pad mounted, are also ideal candidates for evaluation with the portable, lightweight AT5™.
With a memory storage capacity for more than 650 tests, the ALL-TEST PRO 5™ has specific motor trending data accessible at the touch of a button. Test results are easily uploaded to your computer and our MCA Basic™ software provides expert diagnosis, trending, and a wide variety of printed or on-screen reports. Software is available for individual or group users.
Complete stator & rotor analysis – detect Early faults in AC & DC motors, transformers and generators
Auto diagnosis within instrument – immediate health status report
Route-based testing and trending – ideal for predictive maintenance
Tests can be performed from distances of more than 1,000 feet away
Report shows bad connections, winding & turn faults, air gap, broken bar, contamination and ground faults
Product Brochure: https://www.alltestpro.com/fileadmin/user_upload/documents/Marketing/AT5_English_LR.pdf
Visit All-Test Pro at WEFTEC 2017 in Booth #5050 Get a Free Gift After a Brief Demo on Our AT5™ Electric Motor Testre
Chicago, Illionis.
Sep.30 - Oct 4
About ALL-TEST Pro, LLC
ALL-TEST Pro, LLC (ATP) manufactures handheld, portable instruments for the testing of electric motors, generators, transformers and other coil-based devices. ATP's De-Energized testing (Motor Circuit Analysis-MCA™), Energized testing (Electrical Signature Analysis-ESA) and Power Quality Analysis instruments provide predictive maintenance testing, quality control and troubleshooting for a low initial investment and rapid ROI.
ALL-TEST Pro, LLC,
PO Box 1139,
Old Saybrook, CT 06475