ALL-TAG Introduces Q-Tag with 8.2 MHz Radio-frequency and 58 KHz Acousto-magnetic and Radio-frequency Identification Technologies
Press Release Summary: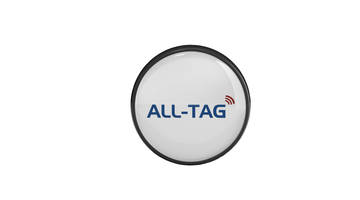 ALL-TAG's new anti-theft Q-Tag ® solution offers retailers a higher ROI with a combination of AM, RF, and RFID technologies for electronic article surveillance. The tag includes a stacked 3D RF coil for better detection performance and a specially designed pin that is safe to use on delicate fabrics such as soft goods and clothing. It can withstand up to 110 pounds of pull force with the help of its built-in patented lock. Logos, advertising messages, security warnings, and QR codes can be custom printed on the dome of the tag.
---
Original Press Release:
ALL-TAG Announces Release of Q-Tag® - A New Higher ROI Hard Tag
Boca Raton, Fla. (PRWEB) June 05, 2018
ALL-TAG, an American manufacturer of RF Labels, and a leading supplier of AM anti-theft security tags, security labels, and other loss prevention products, recently launched a new product: Q-Tag. Q-Tag will deliver a higher ROI than any other EAS hard Tag on the market.
"The Q-Tag is an EAS and RFID solution that combines high security, versatility, efficiency, safety, and marketing/promotion," commented ALL-TAG's vice president of sales, Andy Gilbert.
"It is very challenging to create a revolutionary EAS hard tag these days, but I can honestly say we have done it with the Q-Tag. It is by far the most secure and attractive hard tag on the market, and it's the only one that can come equipped with AM, RF, and RFID technologies all in the same tag, Gilbert continued. "Due to the custom printing of brand logos, promotional messages, QR codes, etc., even marketing/merchandising departments will love the Q-Tag."
Product Features: 
Q-Tag's size, shape, and the connectivity between the tag and pin make it virtually impossible to remove from retail merchandise forcibly.
Q-Tag's unique stacked 3D RF coil offers superior EAS system detection performance to standard 2D flat RF coils. Retailers no longer need large EAS tags to achieve adequate detection.
The patented lock inside of the Q-Tag is built to withstand up to 110 pounds of pull force. As a result, a very unique and powerful magnetic detacher that cannot be purchased anywhere is necessary to release the Q-Tag's lock. If necessary, Q-Tag can be designed to work in conjunction with a retail store's existing detacher.
A single Q-Tag can come equipped with 8.2 MHz Radio-frequency (RF), 58 KHz Acousto-magnetic (AM), and Radio-frequency Identification (RFID) technologies. For retailers with RF, AM, and RFID systems installed in various stores within their chains, they can merely use Q-Tag to accommodate each store regardless of the type of system installed there. No more keeping track of which tags need to be shipped to each individual store.
Q-Tag can be used to protect any apparel or soft good because Q-Tag's specially designed pin will not damage even the most delicate fabrics such as ties, scarfs, and lingerie. With this pin, retailers can tag merchandise wherever they deem most useful from a security and/or customer experience standpoint.
Q-Tag is outfitted with a unique pin parking hole that will reduce tagging time by up to 30%.
"Parking" or connecting the pins to the tags will drastically reduce pin shortage.
Q-Tag's pin parking hole will eliminate possible injuries, as there will no longer be loose pins laying around.
High definition logos, marketing and promotional messages, security warnings, and QR codes can be printed on the top clear resin dome.
Q-Tag will be on display at the NRF Protect 2018 show at ALL-TAG's booth 1509 from June 12-13 in Dallas, Texas.
For additional information about products mentioned in this release, or to learn more about ALL-TAG, please visit https://all-tag.com.
About ALL-TAG 
ALL-TAG is an American manufacturer of 8.2 MHz Radio-frequency (RF) Labels, and supplier of Accousto-Magnetic (AM) labels that are used to source tag retail merchandise. ALL-TAG also supplies RF and AM Hard Tags, Ink Tags, and other Electronic Article Surveillance (EAS) solutions that are fully compatible with Checkpoint® and Sensormatic® brand products. ALL-TAG has been manufacturing their RF Labels for source-taggers and retailers throughout the world since 1992. Our manufacturing facility is located in Boca Raton, Florida. The company also has subsidiaries in the United Kingdom, Mexico City, and Hong Kong, to service our customers throughout the world.
More from Test & Measurement