ALL Strengthens Fleet with Seven-Crane Grove Package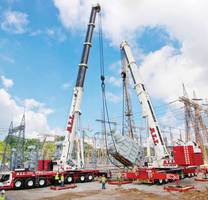 CLEVELAND – The ALL Family of Companies has expanded their impressive fleet of rough-terrain, all-terrain and hydraulic truck cranes with the addition of seven (7) new Grove machines. With varying sizes and capacities, these cranes offer customers an ever-wider selection of new equipment, increasing ALL's ability to remain a leading source for the most technologically advanced cranes and lifting equipment from major manufacturers. The Grove acquisitions will strengthen the ALL Family of Companies' fleet from Louisiana to Canada and across the Midwest.



The complete package of cranes – all purchased within one month – includes (1) GMK7550 (550 USt/499 mt), Grove's largest mobile all-terrain hydraulic crane; (1) GMK6300L (350 USt/318 mt) all-terrain crane, a heavy-lifting truck crane that offers some of the strongest lifting abilities of any six-axle AT; (2) TMS9000E (110 USt/100 mt) truck-mounted cranes, each featuring a five-section full power boom; (2) RT890E (90 USt/82 mt) rough-terrain cranes, each with a five-section, full-power boom and removable counterweight; and (1) TMS700E (50-60 USt/45-54 mt) hydraulic truck-mounted crane, with a four-section, full-power MEGAFORM™ boom.



This new equipment will add flexibility and greater availability for work in several high-demand geographic areas. The two RT890E 90-tonners are slated for immediate wind farm work in Illinois. The TMS700E is headed for ALL Crane Rental of Pennsylvania, ready to handle complex lifts in industrial plants. The TMS9000E is going to ALL Crane Rental of Louisiana, adding capacity to the branch's expanding taxi crane fleet.



"We continually monitor the age, size and capacity range of our standing fleet at all of our yards and then balance this against local and regional demand," says Michael Liptak, ALL Erection Crane Rental president. "Expanding our fleet with these seven new Groves makes an impact at a time when demand is very high."



ALL has one of the largest fleets of cranes and and other lifting equipment in North America. With 37 branches, the purchase of these new Grove cranes is in line with the company's continued dedication to offering an unmatched selection of top-of-the-line new cranes at all capacities.



About ALL

Since 1964, the ALL Family of Companies has grown to become one of the largest crane and equipment rental companies in North America. The company offers its fleet of cranes, aerial work platforms, boom trucks, material handlers, and other lift equipment from strategic locations throughout the U.S. and Canada, providing rental, sales, service, and jobsite analysis to help customers get the right equipment for the job. An important measure of their commitment is meeting or exceeding all pertinent regulatory and safety standards. For more information, contact ALL Erection Crane Rental at 4700 Acorn Drive, Cleveland, OH 44131. Phone: 216-524-6550. Toll free: 800-232-4100. Fax: 216-642-7633. On the Web: www.allcrane.com.

More from Electronic Components & Devices