All-New Stainless Tools by Wera Tools Help Stop Rust on Stainless Fasteners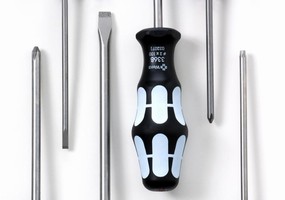 Use a standard screwdriver to fasten a stainless steel screw, and rust can get a foothold just through the tiny traces of metal left behind on the screwhead. It's a widespread problem to which Wera Tools has an innovative solution, in its new stainless tools suitable for the full range of stainless steel fasteners.

While it seems only logical to use stainless steel tools with stainless fasteners to prevent corrosion, until Wera Tools spent two years and millions of dollar to develop the technology, stainless tools were available primarily in small sizes designed for medical use. Wera uses its patented cryogenic process to give stainless steel the proper hardness and flexibility, then incorporates it into tools whose award-winning design provides the ultimate in ergonomic comfort and overall performance.

Wera's Kraftform® Stainless tools are equipped with stainless steel blades and tips to help ensure long-term performance for stainless steel fasteners used in every type of application. The full line includes screwdrivers, screwdriver insert bits, quick release bit-holders and hex keys.

According to Wera General Manager Ian Parkhill, "most stainless steel fasteners on the market claim to prevent rust, but they don't work if 'normal' fastening tools are used. This type of premium fastener needs specialized installation tools."

"Our Kraftform Stainless products don't just prevent rust, but help end users save time and money long-term."

A specialist in screwdrivers, screwdriver bits and adaptors recognized worldwide for its quality and innovation, Wera Tools is a leading European manufacturer with offices in Germany, North America, Great Britain, France, Spain and Singapore. Wera Tools are available from distributors, sales representatives and retail outlets across the U.S. and Canada.

For more information contact: Wera Tools, 7-710 South Service Road, Stoney Creek, Ontario L8E 5S7, Canada. Toll free: 800.267.5541. E-mail: info@weratools.com, or visit www.weratools.com.

More from Controls & Controllers