All-in-One Touchcomputers meet retail, hospitality needs.
Press Release Summary: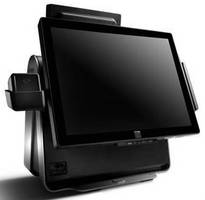 Powered by Intel® Celeron® Dual Core 2.2 GHz or Core 2(TM) Duo 3.0 GHz CPU, D-Series features 15 and 17 in. touch screens with footprints sized to match standard cash drawers in point-of-sale and point-of-service applications. Range of I/O port connection options are available, and motherboard, HDD, and power supply are accessible and field-replaceable. Offered with 3 types of touch technologies, computers support range of optional, field-installable POS peripherals.
---
Original Press Release:

Introducing the New Elo TouchSystems All-in-One Touchcomputer Family



-- New Family of Versatile All-in-One Touchcomputers Delivers Style, Flexibility and Functionality to Retail and Hospitality Environments --

Harrisburg, Pa. -- Elo TouchSystems, a Tyco Electronics business, is introducing a full line of high performance versions of the original 15D1 All-in-One Touchcomputer. Small to medium-sized retail and hospitality businesses now have four new choices of versatile, highly functional and elegantly designed touchcomputer solutions.

"The original 15D1 represented an evolution in touchcomputer solutions," explains Steve Aguirre, product manager. "It delivered what our customers wanted -- a small footprint touchcomputer that combined performance, strong value, enhanced field serviceability and more connectivity options. Now they have four more choices based around an Intel Celeron Dual Core 2.2GHz or Core 2 Duo 3.0GHz and 15-inch or 17-inch touch screens."

The D-Series family was developed from the ground up for point-of-sale and point-of-service applications. The family offers compact, modern displays with a footprint that is sized to match standard cash drawers. The same broad range of optional POS peripherals is still available from Elo and includes a perpendicular MSR card reader for small spaces, a hand-held bar code scanner, a fingerprint reader, and a customer facing display. Upgrading or adding new functionality to any D-Series touchcomputer system is quick and easy because peripherals are field-installable to minimize downtime. All Elo D-Series touchcomputers are available with a range of input/output port connection options to allow virtually any POS configuration and the D-Series family supports third party peripherals such as cash drawers and printers.

Serviceability for the D-Series touchcomputers is easy -- the unit's motherboard, hard drive and power supply are all easily accessible and field-replaceable to enable rapid replacement or upgrades. For customers who require more storage capabilities, a second 160 gigabit hard drive can easily be added. The unit's hard drive, cable management capabilities and spill-resistant housing provide a long functional life, all at a competitive price.

"We intend the D-Series for use by the small to medium-sized customer," concludes Aguirre. "We're confident this family will exceed the expectations of even our most exacting customers."

The D-Series touchcomputers are available with either Zero-Bezel AccuTouch resistive, IntelliTouch surface acoustic wave, or Zero-Bezel Acoustic Pulse Recognition (APR) touch technologies. The Zero-Bezel APR screen provides a virtually 100 percent useable surface area. The zero-bezel design removes the frame or bezel of standard monitors creating a seamless glass surface that supports a brilliant touch experience and easier maintenance. Each unit is available with the Windows Express POS (WEPOS) operating system fully installed, enabling broad compatibility with peripheral software and drivers. The 15D1 is also available with Windows XP, Windows Vista, and cash drawer (OPOS) operating systems.

ABOUT TYCO ELECTRONICS

Tyco Electronics Ltd. is a leading global provider of engineered electronic components, network solutions, specialty products and undersea telecommunication systems, with fiscal 2009 sales of US$10.3 billion to customers in more than 150 countries. We design, manufacture and market products for customers in a broad array of industries including automotive; data communication systems and consumer electronics; telecommunications; aerospace, defense and marine; medical; energy; and lighting. With approximately 7,000 engineers and worldwide manufacturing, sales and customer service capabilities, Tyco Electronics' commitment is our customers' advantage. More information on Tyco Electronics can be found at http://www.tycoelectronics.com/.

ABOUT ELO TOUCHSYSTEMS

Tyco Electronics' Elo TouchSystems is the global leading brand in touch technology. The Elo TouchSystems portfolio encompasses the largest selection of touchscreen technologies, touchmonitors, and all-in-one touchcomputers for the demanding requirements of diverse applications, such as industrial, medical, POS, kiosks, retail, hospitality, transportation, office automation and gaming. Elo founders invented the touchscreen over 35 years ago. Since then, Elo touchscreens have delivered one common, powerful result - advanced computer technology simplified for all users. For more information on Elo products and services, please contact 800-ELO-TOUCH (800-356-8682), or view the Elo products website at www.elotouch.com, or direct electronic mail inquiries to customerservice@elotouch.com.

More from Packaging Products & Equipment