All-In-One MIG Welder delivers precise arc control.
Press Release Summary: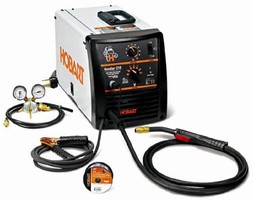 Offering 25-210 A of welding power in 77 lb package, Handler® 210 can weld mild steel up to 3/8 in. and aluminum up to ¼ in. Low-end control enables welding 24-gauge material without burn-through or excess spatter, while 7 voltage taps and infinite wire feed speed control enable arc adjustments to be made in fine increments. Plugged into 230 Vac outlet, unit delivers full output power with normal 35 A breaker and provides arc control for welding thin or thick metal.
---
Original Press Release:

New Hobart Handler 210 MIG Welds 3/8" Mild Steel and 1/4" MIG Aluminum, Features Seven Voltage Taps for More Precise Arc Control



o Excellent arc control for welding thin or thick metal
o Optional DP-3035 direct plug-in spool gun optimizes MIG aluminum
o Perfect for hobbyist, light duty repair/fabrication, farm/ranch, automotive welding

APPLETON, Wis., Aug. 16, 2007--With 25 to 210 amps of welding power in a 77-lb. package, the new Handler® 210 all-in-one MIG welder from Hobart Welding Products offers 25 percent more welding output than competitive welders of similar size. It can weld mild steel up to 3/8 in. and aluminum up to 1/4 in., yet provides low-end control that enables welding 24-gauge material without burn-through or excess spatter. The Handler 210 plugs into a standard 230 VAC outlet and delivers full output power with a normal 35-amp breaker.

Available through farm/ranch and hardware/tool retailers in the US and Canadian markets the Handler 210 has an MSRP of $1,052, prices will vary by retailer.

Best Small MIG Welder
The Handler 210 offers seven voltage taps, enhanced magnetics with better inductance and infinite wire feed speed control. These features enable users to make arc adjustments in finer increments and simplify creating the classic "sizzling bacon" sound that signifies a perfect arc.

"The Handler 210 is the best small MIG welder on the market," says Scott Vandeberghe, an independent metalworker in Portland, Ore. "The arc is crisp, smooth and produces very low spatter. The weld bead wets out nicely and flows into the root of the joint for good bead profile and weld integrity."

Mac MacAllister, who owns a custom fabrication and repair shop in Las Vegas, stated that, "The Handler 210 has become our favorite shop machine by far, and we own 10 welders. Putting 210 amps of power in a package that small really makes this welder the best machine for the money. It did a stellar job welding at high amperage to fix some cracks on my 1-ton truck's trailer hitch."

Although the Handler 210's power and weld characteristics satisfy the light-duty fabrication and repair demands of these experienced welders, Vandeberghe notes that, "the Handler 210 would be excellent machine for the first time welder because it's so easy to dial in. Ease-of-use is the whole secret to success with beginners."

Simple Operation
A seven-position tapped control simplifies voltage (or "heat") adjustment compared to machines with fewer taps or infinite voltage control. The Handler 210 enables users to select a more precise voltage range, which in turn provides greater control over heat input. This helps when welding thin materials, as well as to accommodate welding preferences of travel speed ("fast and hot" to "slow and deliberate"), joint design, welding position, wire diameter, shielding gas composition. By having seven voltage taps, operators can choose which setting best suits their style.

Industrial Grade Spool Gun
By adding the optional DP-3035 spool gun ($498 list price), the Handler 210 provides professional-quality results for MIG welding aluminum up to 1/4 in. Spool guns, which hold a 4-in. roll of wire, optimize aluminum wire feeding performance by reducing erratic arcs, burn-backs, bird nesting and other problem associated with MIG aluminum.

The DP-3035-20 spool gun also provides extended reachup to 20 ft.and allows convenient switching between different wires. Popular options are aluminum, mild or stainless steel and self-shielded flux cored wire, and this industrial-quality gun handles them all (some spool guns are limited to aluminum wire only).

The DP-3035 installs in about two minutes. Just remove the standard MIG gun, plug the DP-3035 lead into the feedhead, attach the trigger lead to the front panel and flip a switch on the inside panel. Connect the machine to the right type of shielding gas (100% argon for aluminum or a "tri-mix" for stainless steel) and you're ready to weld.

Power for Spray Transfer MIG Aluminum
"The Handler 210 is the only unit in its category with enough power to weld aluminum using the hotter spray transfer MIG process, which helps ensure good fusion," notes Dave Enneking, product manager, Hobart Welding Products

Conventional "140" model MIG welders can only weld aluminum in the short circuit MIG mode, while conventional "180" models have limited spray transfer capabilities at their very highest settings.

While the "cooler" short circuit MIG process helps prevent burn-through on thinner steel and stainless steel, it may not provide complete fusion on aluminum because aluminum dissipates heat so rapidly (e.g., the weld puddle cools before the heat of the arc ensures good penetration). For this reason, welding experts do not recommend using the short circuit process when MIG welding aluminum in critical applications, such as a load bearing weld. In non-critical applications, such as skin of an aluminum trailer, short circuit MIG is an acceptable process.

"It's very hard to find a small MIG machine that's good at running aluminum, but the Handler 210 is a proven unit," states Vandeberghe. "It sets up quickly, welds without spatter and does a fine job on both thin and thicker aluminum."

Ready to Weld
The Handler 210 comes out of the box ready to weld with our without a shielding gas. Unlike units for "gasless" flux cored welding only, the Handler features a built-in gas valve and comes with a dual gauge regulator and gas hose. This enables the user to MIG weld with gas-shielded solid wires--the preferred method for thinner metals and stainless steel and required for aluminum--without purchasing additional kits. A built-in contactor keeps the welding wire electrically cool until the trigger is pulled. Without this feature, the wire would arc if touched to the work-piece.

Hobart backs all power sources with its 5/3/1 warranty, which covers the transformer for five years, the switches, controls and valves for three years and the torch for one year. Engines are covered separately by the manufacturer. For a detailed spec sheet or free literature, visit www.HobartWelders.com, call 1-877-HOBART1 (462-2781) or write to Hobart Welding Products at P.O. Box 100, Lithonia, GA 30058.

Hobart Welding Products offers a complete line of industrial-grade Stick, MIG, TIG and spot welders, plasma cutters and generator/welding power sources designed for easy use. Hobart products are available through farm and tool retail stores as well as welding supply distributors.

Hobart Welding Products is a division of Hobart Brothers Company, Troy, Ohio, a wholly owned subsidiary of Illinois Tool Works Inc. (NYSE: ITW). Based in Glenview, Ill. ITW is a multinational Fortune 200 company that engineers and manufactures welding products, fasteners, components, assemblies and systems for customers around the world.

More from Sensors, Monitors & Transducers