ALL Erection & Crane Rental Corp. Adds Three Link-Belt AT Cranes Featuring Outstanding Mobility and Transportability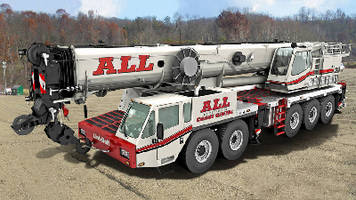 ATC-3275 and All-New ATC-3210 Ease Transportation Issues on North American Roads



ALL Erection & Crane Rental Corp. is adding three Link-Belt all-terrain cranes specifically to meet the growing need for easy transportability on North American roads: two of the all-new ATC-3210 (210 USt/185 T), recently unveiled at CONEXPO/CON-AGG 2104; and one ATC-3275 (275 USt/250 T), the second 3275 in the ALL fleet. Both AT models are specifically engineered to help with North American road laws and make transport easier and more cost-effective.



Because transport weight is critical, none of the counterweights on the ATC-3210 are more than 22,000 lbs. (9,979 kg), and they can be grouped with other components to maximize loads. The ATC-3210 — even when loaded with maximum counterweight, rigging, matting, and fly extensions — can move in just three truckloads. None of the axles exceed 20,000 lbs. (9,071.8 kg), and none of the three truckloads exceed 45,000 lbs. (20,412 kg).



One of ALL Erection & Crane Rental Corp.'s new ATC-3210 units is slated for ALL Carolina Crane Rental of Wilmington (NC), and the second will be an addition to the ALL Carolina Crane & Equipment (Raleigh, NC) fleet. "The 3210's 210-USt capacity fills an unmet need in our North Carolina AT inventory, sliding perfectly between larger and smaller capacity units," says ALL Family of Companies president Michael Liptak. "It's the biggest AT in the North Carolina area that you can transport without removing the boom," he adds. "That's why we bought it — it will benefit our customers by providing critical transportation cost reductions."



The ATC-3210 offers a 44.3–200.1-ft. (13.5–61-m), 6-section formed full-power latching boom, counterweight flexibility, a big engine, and transmission power.



The ATC-3275, introduced by Link-Belt in 2011, can be configured to meet some of the toughest transportation laws in the U.S. Equipped with a maximum 223-ft/68-m, 7-section formed full-power latching boom, this unit is headed for a spot in the AT fleet at Central Rent-A-Crane in Hammond, Ind., a member of the ALL Family of Companies.



Both units meet the toughest transport laws in North America while also meeting Tier IV final and EPA 2013 on-highway requirements.



About ALL

Since 1964, the ALL Family of Companies has grown to become one of the largest crane and equipment rental companies in North America. The company offers its fleet of cranes, aerial work platforms, boom trucks, material handlers, and other lift equipment from strategic locations throughout the U.S. and Canada, providing rental, sales, service, and jobsite analysis to help customers get the right equipment for the job. An important measure of their commitment is meeting or exceeding all pertinent regulatory and safety standards. For more information, contact ALL Erection & Crane Rental at 4700 Acorn Drive, Cleveland, OH 44131. Phone: 216-524-6550. Toll free: 800-232-4100. Fax: 216-642-7633. On the Web: www.allcrane.com.

More from Electrical Equipment & Systems