ALL Erection & Crane Rental Corp. Acquires 17 New Manitowoc and Grove Cranes in Two Blockbuster Packages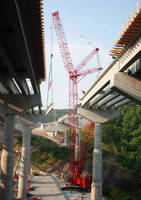 New cranes will help meet increasing demand for energy sector and infrastructure work

ALL Erection & Crane Rental Corp. announces the acquisition of two blockbuster Manitowoc/Grove packages, adding a total of 17 machines to its industry-leading rental fleet: the first in May, including nine (9) units anchored by the mammoth Manitowoc 18000 crawler, and the second in July, eight (8) units including (1) GMK 7550 AT and (1) Manitowoc 2250 crawler. The total purchase of 17 new units offers a range of capacities from 40 to 825 tons. This unprecedented equipment acquisition will help meet the current high demand for more powerful equipment (over 90 tons).

Package 1: Includes cranes from 40- to 825-ton capacities: (1) Manitowoc 18000 crawler (up to 825 USt with MAX-ER® /750 mt), ideal for bridge work, powerhouse projects, wind farms, or any project needing extreme capacity, mobility, and a compact footprint; (1) Manitowoc 2250 (300 USt/272 mt), the staple of ALL's crawler fleet, with a 330-ft main boom and a 160-ft luffing jib-ideal for a variety of applications from setting steel to placing heavy industrial components; (1) Grove RT9150E (150 USt/136 mt), the world's largest-capacity RT crane, having the longest main boom (197 ft/60 m) on any current-production RT crane; (1) Grove RT9130E (130 USt/118 mt) with a 160-ft (49-m) five-section, full power boom; (1) Grove RT890E (90 USt/82 mt) with a 142-ft (43-m) full power boom; (2) Grove RT765E (65 USt/59 mt); and (2) Grove RT540E (40 USt/36 mt).

Package 2: Includes cranes from 65- to 550-ton capacities: (1) Manitowoc 2250 crawler (300 USt/272 mt); (4) Grove RT890E (90 USt/82 mt); (2) Grove RT765E (65 USt/59 mt); and (1) Grove GMK 7550 (550 UST/499 mt), Grove's flagship mobile all terrain hydraulic crane, offering a 550-USt rated lifting capacity on a seven-axle carrier.

"We are adding to our already considerable resources to handle incoming jobs in virtually all developed sectors-power plants, mills, road/bridge work, and commercial construction-but also in developing sectors such as frack mining, wind farms, and solar energy," says Michael Liptak, ALL Erection & Crane Rental president. "These mid- to heavy-duty machines are in high demand and the new units helped us meet our unwavering commitment to serving customer needs. We are grateful to Manitowoc/Grove; they were very helpful through these past few months."

Further information on many of these models can be found in the ALL Equipment Guide at www.allcrane.com/pdf/ALL_Erection_Equipment_Guide.pdf.

About ALL

Since 1964, the ALL Family of Companies has grown to become one of the largest crane and equipment rental companies in North America. The company offers its fleet of cranes, aerial work platforms, boom trucks, material handlers, and other lift equipment from strategic locations throughout the U.S. and Canada, providing rental, sales, service, and jobsite analysis to help customers get the right equipment for the job. An important measure of their commitment is meeting or exceeding all pertinent regulatory and safety standards. For more information, contact ALL Erection & Crane Rental at 4700 Acorn Drive, Cleveland, OH 44131. Phone: 216-524-6550. Toll free: 800-232-4100. Fax: 216-642-7633. On the Web: www.allcrane.com.


More from Agricultural & Farming Products