All-Electric Bender handles up to 9 in. dia tubes and pipes.
Press Release Summary: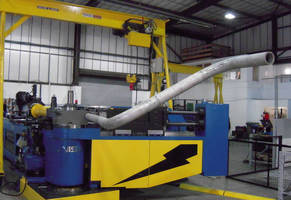 Offering alternative to hydraulically powered machines in shipbuilding, powergen, and oil, gas, and chemical processing industries, all-electric machine provides instant set-up and right-first-time precision operation. All-electric bending motion, controlled by software-programmable, closed-loop servomotor axes, maximizes accuracy and repeatability from batch to batch. Loading heights are available down to ~48 in., and power transmission architecture delivers 360,000 Nm max torque.
---
Original Press Release:

Size Matters: All-Electric Tube Benders Take a Massive Step Forwards



pioneering development opens opportunities in shipbuilding, powergen, oil & gas...



engineering challenges overcome to build this landmark machine



Scarborough, UK --- The tube bending machine innovator Unison is moving the technology forwards again, with the completion of a groundbreaking all-electric machine that is capable of bending tubes and pipes up to 9 inches/225 mm in diameter. The availability of all-electric machines at this new size level brings the benefits of instant set-up and right-first-time precision bending to many new applications in sectors including shipbuilding, powergen, and oil, gas and chemical processing.



The new machine is believed to be the most powerful all-electric tube bender that has ever been shipped, and the first implementation of Unison's new machine design is destined for a naval shipyard. Until this development, the largest all-electric machines offered by most vendors could typically handle maximum tube/pipe sizes of up to 7 inches/175 mm.



"We believe that the right-first-time manufacturing capability of our new nine inch tube and pipe bending machine with its automated set-up, can deliver a return on investment very quickly through scrap reduction and operator time savings - probably within just two to three years," says Alan Pickering of Unison. "With this project Unison has also devised a novel electromechanical actuation architecture that will allow the continued scaling of all-electric benders to even larger machines - and we are confident we can take the next step to 10-12 inch pipe sizes with ease, with bend torques up to a million Newton-meters or more."



"The cost of tubing and piping at eight and nine inch diameters is so considerable that bending machines at this size level can process many millions of pounds worth of raw material a year. The savings in scrap alone for all-electric machines offering this kind of right-first-time precision can generate a return on investment very rapidly" adds Alan Pickering of Unison. "This is particularly true for users employing advanced alloy tubes for purposes such as corrosion resistance and lightness - where the value of single pieces is often measured in five figures."



Unison's new machine offers an advanced and highly productive alternative to the hydraulically-powered machines that are typically used today for bending large bore tubing and piping. Its all-electric bending motion - controlled by software-programmable, closed-loop servomotor axes - allows automatic machine set-up, and delivers extremely high accuracy and repeatability from batch to batch.



Unison has overcome many major engineering challenges to build this landmark machine - a process that has taken more than a year of R&D at its design center.



The most critical of these challenges was finding a way of integrating the servomotor power required to deliver the torque for bending large pipe sizes. For the first application, Unison's new machine needs to be able to bend piping up to a maximum bore of 8 inches with Schedule 30 wall thicknesses of over 7 mm (with an outside diameter of 8.65 inch or 220 mm). For this task, the machine has to deliver a maximum torque of 360,000 Nm. The challenge was met with a novel power transmission architecture. Despite packing in all of this power, the machine also meets the first user's requested low loading height of just 60 inches (1524 mm), and can be provided with even lower loading heights down to around 48 inches (1200 mm) if required.



Another critical design challenge was keeping the bend head of the machine compact, so that it can fabricate intricate shapes without danger of collision. The mechanical design reduces the profile of the clamp and pressure dies and provides a large amount of free space around the bending head, to minimize the potential for interference and give end users a great deal of production flexibility.



The first example of Unison's 225 mm machine architecture is over 12 meters long, and allows users to load pipe lengths of up to 6 or 9 meters in length, using either a clamped or hitch-fed arrangement. This will allow long and complex pipe shapes to be fabricated in single pieces - providing another substantial cost saving mechanism compared to the common practice of creating pipe shapes by bolting together shorter sections that have been further processed to add flanged ends.



In the first application, the bending capability is needed mainly for bending standard large-bore steel piping. However, the high torque also provides an extremely valuable capability for bending tubing made from specialist high strength and/or corrosion-resistant alloys - even with large wall thicknesses. This is also vital for many of the other potential applications for Unison's new machine architecture in areas such as offshore platforms and nuclear power plant construction.



Another aspect of this bending versatility is the ability to programmably control the action and timing all of the machine's bending dies. This allows bending programs to be highly optimized for each particular application, to achieve goals such as bending brittle materials, or retaining as much wall thickness as possible after bending.



Much of the tubing and piping in the 225 mm maximum size range of the new machine architecture can be extremely expensive. So, in addition to the precision of the electromechanical bending architecture, Unison is also making the new machine available with its revolutionary laser-controlled springback correction system, which accurately measures bend angles as they are fabricated, and automatically applies a correction to compensate for any springback.



This right-first-time production process is ideal for many of the perceived applications that Unison foresees for the new machine. In target applications such as shipbuilding and the fabrication of power generation and oil and gas processing plants and equipment, most parts have unique shapes or are fabricated in small batches. This means that routine scrap - something that is almost inevitable when setting up competitive hydraulically-actuated machines - is very high.



Buyers of Unison machines also obtain access to one of the most extensive portfolios of productivity-enhancing software tools for tubular metal fabrication. Covering the complete process from design and manufacture through to final inspection, the product range includes: TubeWorks - an innovative PC-based CADCAM solution for tubular metal fabricators who use SolidWorks CAD software that reduces order processing and pre-production development time from hours to minutes; the powerful PC-based Unibend Office and Opt2Sim 3D simulation software for offline creation, test and validation of bending programs, as well as a unique calculator app for evaluating bending machine tooling that runs on Apple's iPhones, iPods and iPads.

More from Explosives, Armaments, and Weaponry