Alert 360 Security Announces Consecutive TMA Five Diamond Monitoring Center Designation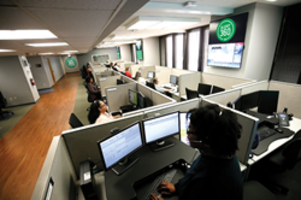 Tulsa, Okla. (PRWeb) May 19, 2019 -- Alert 360 Home Security, the nation's fifth largest provider of home security systems and smart home services, announced it has renewed its "TMA Five Diamond Monitoring Center" designation through The Monitoring Association (TMA). According to TMA, of the approximately 2,700 monitoring centers in the United States that communicate and interact with police, fire and emergency services agencies, fewer than 200 monitoring centers have achieved the Five Diamond designation.
"Every hour of every day, we renew our laser focus on excellence in alarm monitoring, customer service and commitment to our communities," said Richard Ginsburg, president, and CEO Alert 360. "We're tremendously honored to serve a quarter of a million home and business owners and proud that our ongoing commitment to monitoring security systems and providing award-winning service is recognized through this annual designation. It is validation of our immense appreciation for and dedication to the alarm customers and communities we serve."
The Five Diamond designation is granted annually to alarm monitoring centers that satisfy all of the requirements of The Monitoring Association's "five points of excellence," which include commitment to: 
ongoing job-related education and testing by having 100% of its monitoring center operators certified using the TMA online training series on industry best practices;
random inspections and quality criteria standards by a nationally recognized testing laboratory such as FM Approvals, Intertek/ETL and UL;
raising the industry standards through TMA membership and participation in its activities;
reducing false dispatches; and
the highest levels of customer service.
The TMA's Five Diamond designation specifically signifies that a monitoring company has demonstrated an exceptionally high degree of responsibility to its local communities and customers through the investment of time, money and commitment to quality alarm operator training. These alarm monitoring professionals serve as a life-saving link between residential or business properties and police, fire and emergency services in their areas. The TMA Monitoring Center Operator course covers multiple levels of monitoring center communications with customers, police, fire and emergency communications centers. In order to achieve the Five Diamond designation, each and every monitoring operator must pass the TMA course as well as demonstrate proficiency in and knowledge of:
the alarm confirmation process, which helps reduce false alarms;
communications with Public Service Answering Points, such as the Emergency 911 centers;
electronic communications equipment, including, cellular, radio and internet communication systems;
the codes and standards of organizations, such as Underwriters Laboratories, Factory Mutual, the National Fire Protection Association and others; and
emergency preparedness under a wide scenario of possibilities
"Alert 360 customers can rest easy, knowing we're relentless in our dedication to the services we provide them," said Ginsburg. "Through our continuous training in alarm monitoring and ever-evolving smart security product line that delivers meaningful security and convenience, we'll always strive for excellence and improvements that meet the growing needs of home security and smart home consumers."
Alert 360's complete line of home security, business security, energy management, and home automation services include Alert 360 interactive security, home security cameras, a free mobile app, smart home video, remote access, water detection devices, doorbell cameras, and 24/7 alarm monitoring. Alert 360 also provides professional installation or integration of connected devices, such as sprinkler systems, thermostats, sound systems, Amazon Echo, Google Home and more. Learn more at Alert360.com.
About The Monitoring Association The Monitoring Association (TMA), formerly the Central Station Alarm Association (CSAA), is an internationally-recognized non-profit trade association that represents professional monitoring companies, including those listed by a TMA-approved Nationally Recognized Testing Laboratory, such as FM Global, Intertek/ETL or UL. Incorporated in 1950, TMA is legally entitled to represent its members before Congress and regulatory agencies on the local, state and federal levels, and other authorities having jurisdiction (AHJs) over the industry. TMA's mission is to advance the professional monitoring industry through education, advocacy, and public safety relationships. http://www.tma.us.
Other Alert 360 Corporate News
Since Jan 2018, the company has acquired 11 alarm businesses. During that time, Alert 360 gained nearly 22,000 accounts in alarm account acquisitions. Alarm account acquisitions and funding occurred in: Alabama, Arkansas, Arizona, California, Florida, Georgia, Indiana, Kansas, Kentucky, Louisiana, Maryland, Mississippi, Missouri, Nebraska, North Carolina, Ohio, Oklahoma, Pennsylvania, South Carolina, Tennessee, Texas, and West Virginia.
Click the link below to learn more about our alarm account acquisition program and dealer program.
The company also offers a Top Rated Authorized Alarm Dealer program.
About Alert 360 Houston offices: Alert 360 has two offices in Houston to ensure on-time and quality service; no matter what the traffic situation is like! We are one of the largest providers of residential and commercial security providers in Houston and the greater Houston area. All of our local employees are bonded, fingerprinted, insured, drug tested, and licensed by the state of Texas. Our team of security consultants are experts in designing custom systems from the very basic but effective to the most complex and custom solutions.
About Alert 360
Founded in 1973 in Tulsa, Okla., Alert 360 is one of the nation's oldest-licensed alarm monitoring providers. Today, the company is the fifth largest provider of monitored security and smart home solutions to homes in the United States. Alert 360 operates a monitoring and customer service center in Tulsa, Okla., and has offices in 17 cities. The company has achieved Five Diamond alarm monitoring designation and has been named a 2016 Inc. 5000 "Fastest-Growing Privately Held Company in America" and a "Best Places to Work in Oklahoma" in 2016, 2017 and 2018.
Contact Information:
Brad Henderson
Alert 360 Home Security
918-388-6769
More from Material Handling & Storage