Aldrich Chemical Replaces Hydraulic Door Operators With Air-Lec Pneumatic Inertia Style Door Operators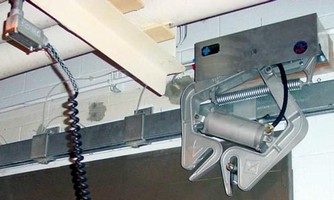 PROBLEM:

Slow moving hydraulic piston style door operators that fail frequently.

SOLUTION:

Install Air-Lec pneumatic I-419 Inertia operator with A10 pneumatic control stations.

Aldrich Chemical replaces hydraulic door operators with Air-Lec pneumatic Inertia style door operators.

A chemical processing plant in Sheboygan Falls, WI, Aldrich Chemical has several volatile areas with large heavy fire-rated blast doors. These areas are accessed several times a day by plant personnel, who were being slowed down waiting for the doors to open and close every time.

Frequent break-downs added to the frustration, and to the costs of operation.

The unreliability and slow speeds of these operators drove Gene Fisher, engineer at Aldrich to direct North Shore Glass & Door LLC, who did the maintenance on their doors, to find something better. Eric Brunner of North Shore found Air-Lec Industries, Inc. during an internet search for "door operators". Eric reviewed the information on the Air-Lec website, and watched a short video on the site as well. He was sure he had found the answer to the problems at Aldrich.

Both Aldrich Chemical and North Shore Glass worked with Air-Lec to find the perfect solution to their door operator problems.

Working with the staff at Air-Lec, both Eric and Gene gave their input, describing the usage and problems they had encountered. They discovered that there were two different types of sliding door operators from Air-Lec that could handle their doors, but that the Inertia style operator would be the best choice for their application. This was combined with the A10 pneumatic push-button Control Kit and new track and hardware from Air-Lec to complete the package.

First installation was a resounding success that attracted attention throughout the plant.

After reviewing all the materials, and watching the Inertia Operator in action on Air-Lec's sales DVD, Aldrich Chemical thought that they had to try this new found solution. The installation was "easy" according to Eric Brunner of North Shore Glass & Door LLC. The result was "amazing" according to Gene Fisher, Engineer at Aldrich Chemical. The new Air-Lec Inertia operator worked so quickly and smoothly, they almost could not believe it. Word spread throughout the facility, and crowds of people gathered to watch it in action. Even the installers of the hydraulic operators, who were in the plant doing repairs on their operators, were impressed and amazed with the Air-Lec equipment. An added feature of the Air-Lec door operator is that the door can easily be opened and closed by hand in the event of a power failure.

The new "standard" in door automation takes over the Aldrich facility.

With such success on the first door, Aldrich moved ahead with scheduling the replacement of the other sliding door operators in the Sheboygan Falls facilities. Already, three other doors have been "up-graded" to Air-Lec door operators. Also, Air-Lec door automation equipment has been written into the plans for a new building on the Aldrich Chemical Campus. In addition, Gene Fisher, engineer, has been spreading the word about Air-Lec to other Sigma-Aldrich Chemical locations.

Tour of the Aldrich Chemical facility, prompts additional possibilities for Air-Lec Industries, Inc. to solve other problems with swing doors.

On a recent visit to the Aldrich Chemical facility by Air-Lec personnel, it was pointed out that Air-Lec Swing door operators could also be used on the bi-parting swing blast doors in other areas of the plant. The same power and smooth action would benefit these types of doors, just as easily as the sliding doors. Plans are progressing to see what can be done that would benefit Aldrich Chemical into the future.

Air-Lec Industries, Inc. can be a problem solver in many types of facilities.

Whether you have a chemical plant with explosive atmospheres, food facilities with coolers and freezers, or whatever environments that need to be separated or contained, Air-Lec door operators can be your solution as well. Heavy or occasional traffic, heavy or light doors, the power and dependability of Air-Lec equipment can do the job. Over and over and over and over, well you get the picture. It's been happening for over 87 years!


More from Electronic Components & Devices