Alarm Control System supports DNP3 Protocol.
Press Release Summary: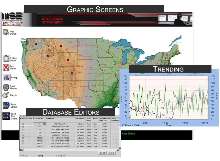 Able to be viewed locally or remotely over Intranet/Internet via web browser, MC3000 Master Alarm Control System utilizes DNP3 Host protocol to achieve standard, open-based interconnectivity between substation computers, RTUs, IEDs, and master stations. Unit combines Tetragenics software with 32-bit protected mode processing, built-in diagnostics, and critical alarm upgrading. It also offers multi-region/number callout and network data logging.
---
Original Press Release:

MSE - Tetragenics' MC3000 Supports DNP3 Protocol


May 4, 2004 - Butte, MT - MSE - Tetragenics, a leading automation, monitoring and control system company, announces the enhancement of the MC3000 to support the DNP3 Protocol. The MC3000 Master Alarm Control System is designed for system control in a secure environment. The DNP3 Host protocol enables the MC3000 to achieve standard, open-based interconnectivity between substation computers, Remote Terminal Units (RTUs), intelligent electronic devices (IEDs), and master stations. Industry trends indicate that DNP3 is now the leading choice for automation managers.

The MC3000 combines advanced Tetragenics software with 32 bit protected mode processing, built-in diagnostics, critical alarm upgrading, Ethernet support, security, multi-region/number callout, network data logging, and multiple download options. The system can be viewed locally or remotely over your Intranet/Internet at remote sites using a standard web browser.

Able to run on multiple platforms, the MC3000 Master is ideally suited for small to large-sized monitoring and control systems that require the performance and scalability offered by today's powerful computers.

MC3000 Master System Highlights:

DNP3 Host - uses this latest standard protocol allowing substation computers and master station computers to communicate data and control commands - the MC3000 supports several other protocols, including Modbus, JEM2, Schweitzer, and Tetragenics protocols

Multiple Platforms - runs on Windows XP, 2000, NT, and 98

Security - requires a case-sensitive user name and password with 255 access levels available

Expandability - supports up to 10,000 IEDs/RTUs/PLCs

Internet/Intranet Ready - allows system to be viewed securely with a web browser

User-Definable Logic/Control Sequences - can execute user-defined sequences and controls based on time and/or event

Auto Generated Text Screens - displays text screens automatically, showing the status of each input and output in the system

User-Defined Screens - allows customization of high definition graphic screens

Ethernet Polling - communicates with remote units over the network

System Editors - uses Windows-based System Database Editors (SDE), containing user-friendly tables with scrolling parameters for easy editing

Trending - creates graphical trends of real-time and historical data

Historical Data Archive - stores data for later viewing, or import into other programs in ASCII format for analysis

Email Alarm Notification - automatically emails notification of alarms to specified email addresses (used in addition to audible and call out alarm features)

Ping Alarming - provides automatic pinging features for selected devices on the network

Plant Control Functions - provides load, spill, pond, VAR, volt, PF, VAR Balancing functions

Alarm Levels - contains user-defined alarm levels with 128 available configurations

Custom Modules - allows custom system expansion by system administrator or Tetragenics Engineer

For more information visit http://www.tetragenics.com/mc3000.htm.

MSE - Tetragenics
65 East Broadway
Butte, MT 59701
406.533.6800
www.tetragenics.com