Aker Solutions Expands Product Offering in Southern Africa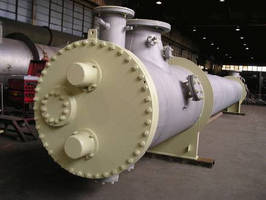 Aker Solutions has been awarded a contract for the supply of an anodically protected, proprietary sulphuric acid cooler to Foskor Ltd, one of the world's largest producers of phosphate and phosphoric acid. The acid cooler is a proprietary design of Aker Solutions and will be supplied to Foskor's phosphoric acid facility in Richards Bay, South Africa.

Aker Solutions has supplied more than 1400 proprietary acid coolers over the last 40 years. This valuable operating experience coupled with ongoing design and materials has positioned Aker Solutions' patented acid coolers at the forefront of sulphuric acid cooling technology. Developed out of the customer need to improve plant reliability and reduce plant foot print, Aker Solutions' acid coolers deliver long periods of uninterrupted plant operation; compact plant layout; vastly reduced maintenance; greatly improved acid quality and the ability to recover sizeable quantities of valuable low grade energy. The acid cooler will be manufactured at Aker Solutions' Pickering, Canada facility.

Johan Cnossen, Senior Vice President, Europe, Middle East & Africa region with Aker Solutions' Process and Construction business area said, "Aker Solutions' position as the leading supplier of sulphuric acid cooling technology has emanated from our focus on every quality detail during fabrication and our understanding of the plant operators' requirements. Through our Johannesburg operation we can extend supply of this successful product into Southern Africa, whilst ensuring a strong local service."

The contract party for Aker Solutions is Aker Solutions E&C International Ltd.

Recognising the potential growth in all sectors in Southern Africa, Aker Solutions opened its new Johannesburg office in 2008. Aker Solutions recently delivered the Foskor Themphos feasibility study for a phosphoric acid plant.

For further information, please contact:

Media:

UK: Vanessa Mourant

VP Communications,

Aker Solutions.

Tel: +44 (0) 208 545 0270,

Mob: +44 (0)7771 806566

Career opportunities: Visit http://akersolutions.com/Internet/CareerCentre

Aker Solutions ASA, through its subsidiaries and affiliates ("Aker Solutions"), is a leading global provider of engineering and construction services, technology products and integrated solutions. Aker Solutions' business serves several industries, including oil & gas, refining & chemicals, mining & metals and power generation. The Aker Solutions group is organised in a number of separate legal entities. Aker Solutions is used as the common brand/trademark for most of these entities.

Aker Solutions' parent company is Aker Solutions ASA. Aker Solutions has aggregated annual revenues of approximately NOK 54 billion and employs approximately 22 000 people in about 30 countries.

Aker Solutions is part of Aker (www.akerasa.com), a group of premier companies with a focus on energy, maritime and marine resource industries. The Aker companies share a common set of values and a long tradition of industrial innovation. Through its majority-owned holding company Aker Holding AS, Aker controls 40.27 percent of the shares in Aker Solutions, and takes an active role in the development of the company.

Aker Solutions' Process and Construction business area is a world leader in the project management, design and construction of major projects spanning refining, petrochemical processing, liquefied natural gas (LNG), metals and mining, power generation, nuclear clean-up, and acid plants. From initial concept through technology development, process technology application, design, procurement, construction, commissioning, operations, maintenance, modification and decommissioning, we provide our customers with the full life cycle of services. Process and Construction provides sound local expertise, combined with the depth and strength of global project operations.

More from Material Handling & Storage