Ajax TOCCO Supplies Air-Cooled Induction Weld Preheat System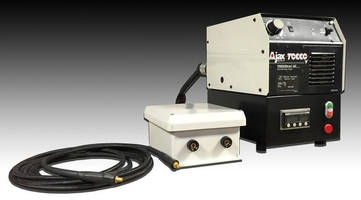 Ajax TOCCO Magnethermic recently delivered 5 / 10 kW TOCCOtron AC induction heating systems to an international on-site heat treating firm. These systems are designed for portable / on-site preheat prior to welding applications.



The customer chose these systems over larger 35 kW induction heating systems due to significantly less equipment costs. At 5 kW continuous output, the customer stated the 5 / 10kW TOCCOtron AC systems satisfied the majority of their small to medium preheat prior to welding applications and was capable of heating 50 kg of steel to 200°C in 30 minutes.



The customer also cited a simple, robust design in addition to the light weight (hand carried), 100% aircooled design including quick setup and broad application capabilities as other factors in their decision.



Ajax TOCCO air-cooled induction weld preheat systems offer many advantages including:

• Controlled Cooling Rates

• Increased Penetration

• Increased Feed Rates

• Improved Quality

• Reduced Consumables



High-frequency induction heating cables can be configured for round, flat or irregular surfaces. No tools are required for installation and use. All electrical connections are made with quick disconnects and circular military style connectors. Other applications include bearing / sleeve shrink fitting, coatings curing, coatings removal, die heating and bulk heating applications.



Ajax TOCCO Magnethermic®, a subsidiary of ParkOhio Holdings Corp.®, designs and manufactures world-class induction heating and melting equipment for various industries and applications throughout the world. In addition, the Company provides a range of services including laboratory process development, preventive maintenance, equipment repair, and parts, coil repair facilities and installation services through its locations in North America, South America, Europe, and Asia. www.AjaxTocco.com.

More from Mechanical Power Transmission