Aisle Striping Tape is scratch, smear, and scuff resistant.
Press Release Summary: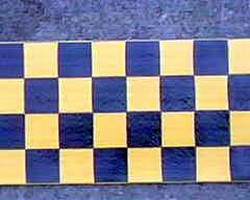 Available in yellow and black and white and black, MightyLine(TM) checkerboard aisle striping tape comes in 2, 3, 4 and 6 in. widths on 100 ft rolls. It is made from tough durable polymer, and has pressure sensitive adhesive backing. Two-toned product features Easy-On Applicator with adjustable laser and true-tracking construction, and is suited for multiple aisle striping uses such as highlighting signs, hazardous materials, and emergency equipment.
---
Original Press Release:

Shieldmark Introduces Mightyline's New Checkerboard Tape



Two-Toned Product Perfect for Multiple Aisle Striping Uses

CLEVELAND, OH (September 25, 2007) - ShieldMark, Inc. introduces MightyLine's(TM) (http://www.mightyline.net/) new checkerboard aisle striping tape, perfect for highlighting signs, hazardous materials and emergency equipment. MightyLine checkerboard tape is available in yellow & black and white & black, and comes in 2 in., 3 in., 4 in. and 6 in. widths on 100' rolls.

All MightyLine products are extremely scratch, smear and scuff resistant.

For free samples of MightyLine products, call 800-714-9980 or email admin@mightyline.net

ShieldMark's line of durable striping products is a superior and economical alternative to stripe painting. Easily installed and maintained, the MightyLine aisle striping system is made from a tough durable polymer and has a pressure sensitive adhesive backing and is designed for years of use.

MightyLine's patent pending system features an "Easy-On Applicator" with an adjustable laser and true-tracking construction.

MightyGlow(TM) features a luminescent ½ in. line centered on a four-inch-wide MightyLine that glows in the dark in the event of a power outage.

MightyLines are produced in 2 in., 3 in., 4 in. and 6 in. widths on 100' rolls.

With no smelly, messy paint or drying time, MightyLine features the easiest installation of any striping product on the market - simply clean the installation area, apply with the "Easy-on Applicator" and it's ready to use. Also, it can be quickly removed and reconfigured without leaving any residue behind.

MightyLine is manufactured by Cleveland-based ShieldMark, Inc.

CONTACT:
Tom Goecke
ShieldMark, Inc.
440-895-9980
shieldmark@sbcglobal.net

More from Test & Measurement