AIS Transponder System provides collision avoidance at sea.
Press Release Summary: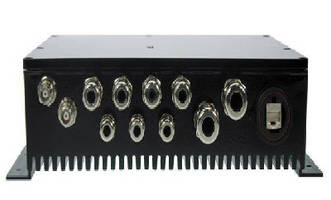 Designed for deep-sea commercial mariners, Simrad MX535B provides instant overview of marine traffic with real-time data that includes maneuvers of nearby ships and location of AIS-enabled vessels in radar blind zones. IMO-approved system delivers spontaneous ship to ship or ship to shore information through integration with Simrad MX510 and MX512 displays. When paired with Simrad MX510 and AN156 GPS antenna, system provides Class A AIS capabilities most vessels require.
---
Original Press Release:

Simrad Yachting Launches MX535B Class A AIS System



Electronics Leader Announces Premier Collision Avoidance Solution for Enhanced Safety At Sea



Tulsa, Okla. – Simrad Yachting – world-leader in the design and manufacture of professional-performance marine navigation, autopilots, communications and fish-finding systems – announced today its new International Maritime Organization (IMO) type approved Class A AIS transponder solution, the Simrad MX535B. The smart collision avoidance system provides an instant overview of marine traffic with easily accessible real time data that includes the maneuvers of nearby ships and location of AIS-enabled vessels in radar blind zones. Offering captains a host of Simrad Yachting's signature safety and convenience benefits, the Simrad MX535B has unrivaled performance features, and the flexibility to act as a standalone or an integrated system to suit the size and complexity of any vessel.



Designed for deep-sea commercial mariners, the Simrad MX535B AIS provides spontaneous 'ship to ship' or 'ship to shore' information through simple integration with Simrad MX510 and MX512 displays. For standalone use, the system — when paired with the Simrad MX510 and AN156 GPS antenna — provides the Class A AIS capabilities most vessels require. Delivering enhanced convenience and versatility, the MX535B features eight NMEA 0183 serial ports that allow operators to network the AIS system with the Simrad MX512 multi-port display, a separate junction box and AN156 antenna for AIS and navigation, as well as connectivity to other on-board systems such as radar, ECDIS or VDR. In addition, the MX535B can be paired with the Simrad MX521A DGPS Smart Antenna for DGPS navigation functionality.



"Our new Simrad MX535B AIS transponder provides a simple solution for the incredible complexity of safe on-the-water navigation," said Leif Ottosson, CEO, Navico. "The system has been designed by a team with over 20 years in IMO-approved product development and achieves our goal to provide mariners with a feature-packed, scalable, cost-effective AIS system for enhanced safety at sea."



Fully IMO-compliant, the Simrad MX535B conforms to standards including IMO MSC.74 (69) annex 3, IMO A.694 (17), MSC 112(73), MSC.191 (79), ITU-R M.1371-3, ITU-R M.825-3, ITU-R M.1084-3, IEC 61993-2(ED 1), IEC 61108-1(ED 2), IEC 60945(ED 4), IEC 61162-1, IEC 61162-2 and IEC 62288 Ed.1.



For more information and pricing on the Simrad MX535B Class A AIS system or the entire line of Simrad Yachting professional-performance marine electronics, please contact 800-324-1356 (toll-free) in the USA or 800-661-3983 (toll-free) in Canada or visit pro.simrad-yachting.com.



About Simrad Yachting: The Simrad Yachting® brand is wholly owned by Navico, Inc. A privately held, international corporation, Navico is currently the world's largest marine electronics company, and is the parent company to leading marine electronics brands: Lowrance, Simrad Yachting and B&G. Navico has approximately 1,500 employees globally and distribution in more than 100 countries worldwide. www.navico.com

More from Laboratory and Research Supplies and Equipment