Airtight Female XLR Socket suits active loudspeakers.
Press Release Summary: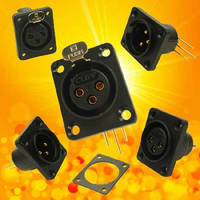 Fitted with integral latch, Airtight XLR Socket eliminates accidental disconnection by vibration or tension on cable. Audio input connector is fitted to loudspeaker enclosure with supplied sealing gasket and has completely sealed connection pins. Three mounting types are available offering vertical or 90° PCB mounting or solder bucket for wired connection. All contacts are gold plated and are rated at 5 A nominal, 15 A maximum up to 250 Vac maximum.
---
Original Press Release:

Innovative Latching Airtight XLR Socket from Cliff Electronics Suits Active Loudspeakers and Audio Installations



Cost Saving Industry Standard Input Connector

UK designed and manufactured



Cliff Electronics announces the introduction of a new latching female XLR socket. This industry standard connector is widely used for audio inputs and is the latest addition to Cliff's range of professional audio connectors. Designed and manufactured by Cliff Electronics in the UK this latest version of their market leading Airtight XLR connector range is fitted with an integral latch to prevent accidental disconnection by vibration or tension on the cable.



Cliff's airtight XLR connectors offer cost saving solutions to longstanding problems experienced by pro-audio manufacturers of studio monitoring and similar hi-fidelity audio applications and live music producers. Active loudspeakers (fitted with internal amplifiers) produce considerable air pressure within the cabinet and any air leakage will reduce efficiency and impair sound quality.



The customary method used by loudspeaker manufactures to make an input socket airtight is use a sealant solution to make both the body airtight in the cabinet and seal the connection pins. This time consuming and messy process is not required when fitting a Cliff Airtight XLR socket.  Cliff Airtight XLR sockets are fitted to the loudspeaker enclosure with a supplied sealing gasket and uniquely have completely sealed connection pins. This not only reduces assembly time and cost but also makes replacement of the connecter a much easier task.



The supplied gasket will seal the socket flange against the loudspeaker enclosure and may be fitted on the front or rear of the XLR depending on preferred mounting.  3 mounting types are available offering vertical or 90° PCB mounting or solder bucket for wired connection. All contacts are gold plated and are rated at 5A nominal, 15A maximum up to 250VAC maximum.



John Hall, General Manager at Cliff Electronics, comments," Cliff Electronics has been providing innovative solutions for the music industry since the beginning of amplified music in the 1970's. We are major suppliers to all the main amplifier and loudspeaker manufacturers and work closely with them in to provide UK designed and manufactured connector solutions. Our new airtight XLR connecter family provides a cost and labour saving solution to possible air leakage affecting loudspeaker fidelity"



Cliff is a leader in the design, development and manufacture of components and connectors for audio, engineering, instrumentation, medical, lighting and vending applications.



Cliff Electronics manufactures audio and power connectors, test leads and accessories, general industrial connectors, foot pedals, lighting connectors, terminal posts, motors, fans and assembly aids. Cliff can also provide a wide range of leads including audio, instrument and power. For more information call +44 (0)1737 771375, email sales@CliffUK.co.uk, visit www.cliffuk.co.uk or download a data sheet from http://www.cliffuk.co.uk/products/xlr/airtight.htm



About Cliff Electronics

CLIFF Electronic Components Limited was founded in 1977 to supply the music industry with connectors. Cliff has subsequently greatly expanded their products and services to become a high quality supplier to most professional and industrial markets. As both a manufacturer and a distributor, the expansion of their product range has established Cliff as a prime source for components. From audio into test leads and accessories, general industrial connectors, foot pedals, hand tools, production aids, lighting connectors, motors and fans. Cliff also manufactures and sources various types of leads including audio, instrument and power leads. Cliff also has extensive expertise  in moulding and metalwork and can provide a design, engineering and manufacturing service for the production of customised  components and assemblies. Our plastics expertise  includes injection-moulding, blow-moulding, extrusion, sonic-welding and printing. Metalwork includes stamping, machining, aluminium  extrusion, finishing and printing. We also have the facility to enable assembly, inspection and testing. Cliff's UK and Far Eastern production plants are certified to ISO 9001 2000 and employ design, engineering, technical, marketing and sales personnel. Quality has always been of prime importance and the majority of CLIFF products are covered by approvals from organisations  such as UL and VDE.



For further information contact;

Cliff Electronics Ltd.

Holmethorpe Industrial Estate, Redhill, Surrey, RH1 2PF, England

+44 (0)1737 771375     

sales@cliffukco.uk

www.cliffuk.co.uk

More from Communication Systems & Equipment