AirSpeed Fit Protective Packaging System eliminates storage space.
Press Release Summary: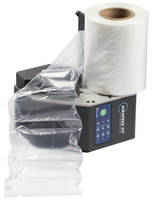 Producing air pillows and wrappable void-fill to protect packaged product, Pregis AirSpeed Fit caters to requirements of omni-channel retailers. Measuring 11 x 13 x 9 in. and weighing 15 pounds, product can produce 8 x 4 in. and 8 x 8 in. air pillows and quilted wrappable void fill for cushioning packaged product.
---
Original Press Release:
Pregis' New AirSpeed Fit Inflatable Protective Packaging System Targets 'Ship-from-Store' Locations with Compact Solution
Pregis is launching a new inflatable protective packaging system engineered for compact packing stations.
The patent-pending Pregis AirSpeed® Fit™, which produces both air pillows and wrappable void-fill, was designed to address the fulfillment needs of the omni-channel retailer.
"At the core of the omni-channel strategy is locating fulfillment as close to the customer as possible in order to speed delivery and minimize shipping charges. This means that sometimes the order is packaged at a retail location where space is at a premium. Frequently, all that is available is a very small room at the back of the retail space," explains Ryan Germann, ecommerce segment manager, Pregis.
The 11- x 13- x 9-inch AirSpeed® Fit™ weighs 15 pounds, making it ideal for even the smallest "ship-from-store" spaces. It can produce 8- x 4-inch or 8- x 8-inch air pillows, as well as a quilted wrappable void fill which cradles the product, forming a protective cushion. Its simple, out-of-the-box operation means that no training is required.
AirSpeed® Fit™ is an ideal replacement for traditional void fill, as well as ½-inch, premade bubble. Because it makes cushioning material on-demand, storage space required by premade materials is eliminated. (For example, one roll of AirSpeed® Fit material can replace up to four rolls of premade bubble.)
The professional-looking air pillows and wrappable void-fill, parallel the quality produced at the retailer's distribution center, ensuring a seamless customer experience regardless of where within the network the package is being shipped.
"The retail store employee has a number of responsibilities including providing customer service and stocking shelves in-between fulfilling orders. The AirSpeed Fit has been designed to enable everyone, regardless of their packing experience, to easily operate the machine and effectively package orders," Germann concludes.
About Pregis
Pregis LLC is a leading provider of innovative protective packaging materials, equipment systems and surface protection. The company offers solutions for a wide variety of consumer and industrial market segments including food, beverage, healthcare, medical devices, agricultural, e-commerce, retail, automotive, furniture, electronics, construction and military/aerospace. For more information: www.pregis.com.
Media Contacts:
Dache Davidson
Pregis
(847) 597-9357
More from Mechanical Components and Assemblies