AirPouch® Protective Packing Systems Create Inflatable Packing Materials on Demand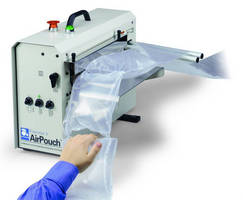 Automated Packaging Systems, the world leader in high-reliability bag packaging systems, is introducing in Australia its line of AirPouch® void-fill and protective packaging systems and materials. AirPouch systems deliver on-demand, inflatable air pillows, bubbles and tubes used for void-fill, protective wrapping, blocking, bracing and packing applications.



Preformed material is shipped in boxes and inflated on demand at the packing station for maximum production efficiency. These compact units are portable and require only electricity for operation. The AirPouch Express 3™ system will produce void-fill air pillows at the rate of 15 meters per minute. The AirPouch FastWrap™ system produces cellular cushioning wrap at 20 meters per minute. Both product lines include EZ-Tear™ perforations for operator speed and convenience.



Void-fill air pillows offer many advantages over traditional packing materials because they are cleaner, lighter, more user-friendly, and increase product visibility over EPS peanuts and paper. Shipping, storage and handling costs are less than conventional packing materials because one standard box includes more than 1200 linear meters of material. EarthAware™ recycled and biodegradable materials are available in a tinted green color to demonstrate environmentally friendly options.



MPI Australia will have a full display of Automated Packaging products in its stand 158-160 at AusPack, May 7 – 10 in Sydney, Australia.



About Automated Packaging Systems

Automated Packaging Systems has been designing and manufacturing original Autobag®, AirPouch® and SidePouch® systems and products for more than 50 years. With more than 30,000 packaging systems in operation and a worldwide service organization, Automated Packaging Systems has the experience and support to deliver the ultimate in customer satisfaction. Automated Packaging Systems offers a complete line of baggers, void-fill and protective packaging systems, thermal transfer imprinters, counters, scales, and specialty packaging materials. Complete information is available at the company's web sites: www.autobag.com

www.airpouch.com



About MPI Australia

MPI Australia is the exclusive distributor of Autobag®, AirPouch® and SidePouch® systems and products in Australia and New Zealand. MPI Australia serves the fast growing needs of Australian companies for quality packaging equipment and solutions to packaging problems. With 50 years of experience, MPI Australia can design, install and service total packaging solutions that will improve productivity and streamline operations with a smart return on investment for its customers. The company is committed to offering the industry's best technical service support with a fully qualified team of sales and service professionals.

www.mpiaust.com.au.

Related