AirLoc Wedgmounts® Provide Precise Leveling/Isolation for Tire Uniformity Testing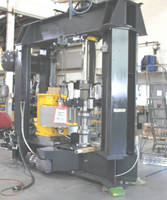 Micro-Poise Measurement Systems, LLC, headquartered in Akron, Ohio is a world leader in machinery specially designed for passenger and light truck tire testing. ASTEC PLUS(TM) is a critical component of the Micro-Poise Modular Tire Measurement System designed to optimize the tire testing process for uniformity and dynamic balance measurements. AirLoc 4-VRC/A Freestanding Wedgmounts were selected to support this machine as shown below. The precise leveling capability coupled with vibration isolation pad performance of these leveling mounts help insure the accuracy of the Micro-Poise ASTEC PLUS system.

AirLoc Wedgmounts are available in a large range of sizes, with loadings from a few hundred to 225,000 pounds per mount, and a wide selection of isolation, damping, or leveling pads. Mounting versions are available for Freestanding, Bolt-on, Bolt- through, and Rigid-clamping applications.