Airfast™ RF LDMOS Transistor is designed for two-way radio applications.
Press Release Summary: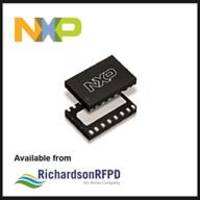 Suitable for large-signal and common-source amplifier applications, AFM906NT1 Airfast™ RF LDMOS Transistor is operated in 136 to 941 MHz frequency with 7.5 V of supply voltage. Featuring 20.3 dB power gain at 520 MHz, unit offers +37.8 dBm of P1dB and 6.8 W output power. Product offers 70.8 % efficiency.
---
Original Press Release:
Richardson RFPD Introduces New Airfast™ RF LDMOS Wideband Transistor for Mobile Radio Applications from NXP
6.0 W, 7.5 V transistor operates from 136 to 941 MHz
Richardson RFPD, Inc. announced today the availability and full design support capabilities for a new RF power LDMOS transistor from NXP Semiconductors.
The AFM906NT1 is designed for handheld two-way radio applications with frequencies from 136 to 941 MHz. The high gain, ruggedness and wideband performance of this device make it ideal for large-signal, common-source amplifier applications in handheld radio equipment.
Additional key features of the AFM906NT1 include:
Supply voltage (typ.): 7.5 V
P1dB (typ.): +37.8 dBm
P1dB (typ.): 6 W
Output power (typ.): 6.8 W
Power gain (typ.): 20.3 dB @ 520 MHz
Efficiency (typ.): 70.8%
To find more information, or to purchase this product today online, please visit the AFM906NT1 webpage. The device is also available by calling 1-800-737-6937 (within North America); or please find a local sales engineer (worldwide) at Local Sales Support. To learn about additional products from NXP, please visit the NXP storefront webpage http://www.richardsonrfpd.com/content/english/aboutus/Pages/Suppliers-Storefront.aspx?supplierId=167.
About Richardson RFPD
Richardson RFPD, an Arrow Electronics company, is a global leader in the RF and wireless communications, power conversion and renewable energy markets. It brings relationships with many of the industry's top radio frequency and power component suppliers. Whether it's designing components or engineering complete solutions, Richardson RFPD's worldwide design centers and technical sales team provide comprehensive support for customers' go-to-market strategy, from prototype to production. More information is available online at www.richardsonrfpd.com.
Contact:
Mark Vitellaro
Director of Strategic Marketing
Richardson RFPD
1950 S. Batavia Ave. Ste 100
Geneva, IL 60134
P 630.262.6836
M 630.338.9051
More from Fluid & Gas Flow Equipment