Air Suspension and Axle Systems are designed for truck cranes.
Press Release Summary: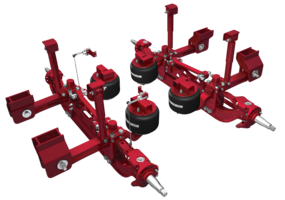 Hendrickson's Air Suspension and Axle Systems provide improved ride quality and driver handling. Front suspension and axle system comes with STEERTEK NXT fabricated axle. Having 30,000 lb per axle capacity, rear air suspension features QUIK-ALIGN®. Front air suspension and axle systems are available with 48000 lb capacity whereas rear suspension with 60000 lb capacity.
---
Original Press Release:
Hendrickson Launches New Suspension and Axle Solutions for the Terex® T 110 Truck Crane at ConExpo
Hendrickson Truck Commercial Vehicle Systems located in South Hall 1- S60753 announces availability of a 48,000 pound tandem front air suspension and axle system and a 60,000 pound capacity tandem rear air suspension at ConExpo. These new products will serve as the standard front and rear systems for the new Terex® T 110 Truck Crane which can be seen in the Terex Booth, Gold Lot #3382.
The new front suspension and axle system is designed and manufactured to meet the specific needs of the truck crane market. The system includes the STEERTEK NXT fabricated axle, designed to achieve durability, rigid strength and weight efficiency when compared with traditional axles. STEERTEK NXT's box-shaped cross section resists horizontal, vertical and twisting forces while providing a significant weight savings.
The air suspension is designed to greatly improve vehicle handling while utilizing high volume air springs that will increase driver comfort and equipment protection. This suspension and axle combination saves hundreds of pounds as compared to current industry solutions.
Hendrickson's new rear air suspension reaches capacities of 30,000 pounds per axle with overall weight savings of up to 300 pounds compared to typical suspensions. This suspension utilizes Hendrickson's leaf spring technology in conjunction with air springs and shocks to achieve a tuned suspension system for improved roll stiffness and comfortable ride characteristics. Drivers benefit as the system provides predictable handling when performing maneuvers. The suspension design allows for lower maintenance with the elimination of the transverse torque rod and a QUIK-ALIGN® feature for ease of alignment.
"We identified an opportunity for a purpose built air suspension and axle system that saves weight and improves the performance, addressing the unique needs of the crane market. Delivering improved ride quality and driver handling are a direct result of listening closely to customer needs while applying the ride and handling expertise that Hendrickson is known for in the industry." said Gerry Remus, business unit director for Hendrickson Truck Commercial Vehicle Systems.
For additional information on Hendrickson, contact Hendrickson Truck Commercial Vehicle Systems at 630-910-2800
Hendrickson, a Boler company, is a leading global manufacturer and supplier of medium- and heavy-duty mechanical, elastomeric and air suspensions; integrated and non-integrated axle and brake systems; auxiliary lift axles systems; parabolic and multi-leaf springs; stabilizers; and bumper and trim components to the global commercial transportation industry. Hendrickson, based in Itasca, Ill., USA, continues to meet the needs of the transportation industry for more than 100 years. Visit Hendrickson at www.hendrickson-intl.com.
For more information contact:
Mark Slingluff
Hendrickson
(330) 489-0050
mslingluff@hendrickson-intl.com
More from Laboratory and Research Supplies and Equipment