Air Sampling Pump Calibrators suit field and lab environments.
Press Release Summary: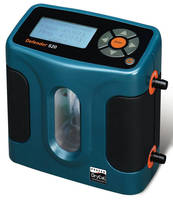 Used to calibrate industrial hygiene and occupational health air sampling pumps in portable or laboratory applications, Defender Series leverages DryCal® Technology for accelerated, ±1% volumetric accuracy. Functionality, depending on model, includes volumetric primary flow standard, ambient temperature/pressure condition recording, and automatic reading standardization. Series also offers choice of single, hands-free continuous, or user-specified Burst measurements.
---
Original Press Release:

Defending Lives - Personal Sampling Pump Calibration



Applications:

• Industrial Hygiene & Occupational Health Air Sampling Pump Calibration



Defending Lives – Personal Sampling Pump Calibration

New Star Environmental offers a complete line of calibration instrumentation for portable or laboratory applications. Backed by Proven DryCal® Technology for fast, ±1% of reading calibrations the Defender Series has three levels of instrumentation giving the user flexibility to do as much as needed while working to defend lives.



The Defender 510 is a volumetric primary flow standard.

The Defender 520 is an enhanced volumetric primary flow standard that also records ambient temperature & pressure conditions.

The Defender 530 is a volumetric primary flow standard & also standardizes readings automatically.



This Series has a broad dynamic flow range with a choice of single, hands-free continuous, or user -specified "Burst" measurements. It offers the temperature and pressure conditions of the calibration process in the 520 model, with standardizing readings in the 530 model. Time intervals between measurements allow for checking personal sampling pump stability over a typical sampling period.



The unit is a field-friendly, rugged and lightweight design featuring a large, illuminated liquid crystal display and intuitive menu navigation. It has RoHS- and CE-compliance.



Volumetric accuracy is ±1%. Volumetric options – mL/min, L/min, cc/min, cf/min.



For the complete specifications on the Defender Series product line, go to

http://www.newstarenvironmental.com/defender-530-series



New Star Environmental, Ph 770-509-7484, www.NewStarEnvironmental.com, email:  samlanasa@newstarenvironmental.com

Related