Air Sampling Pump allows programming by hygienists.
Press Release Summary: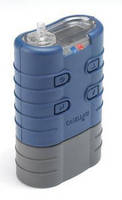 TUFF Pro personal air sampling pump includes suite of programming options to assist users in collecting samples of dusts, fumes, vapors, lead, and asbestos. In Time Weighed Average mode, hygienist can program pump to start and pause throughout workday. Rugged device's delayed monitoring allows setup, upload, and handover of pump to another technician for on-site testing near required test time. It also stores data for up to 100 runs that can be downloaded for analysis.
---
Original Press Release:

Casella TUFF Pro(TM) Air Sampling Pump Features Advanced Programming Options



Automatic timed start-stop routines help safety hygienists collect
representative samples throughout entire workday

AMHERST, NH - The TUFF Pro personal air sampling pump from Casella USA features the industry's most advanced suite of programming options to assist safety hygienists in collecting representative samples of potentially harmful dusts, fumes, vapors, lead and asbestos.

"Our TUFF Pro is truly the ultimate in air sampling pump control," noted Bob Selwyn, National Sales Manager for Casella USA. "It has built-in intelligence that competitive pumps lack, along with a rugged industrial-strength design that protects its internal electronics from damaging moisture, extreme temperatures, solvents and impact."

One of the Casella TUFF Pro's most impressive capabilities is found in its TWA (Time Weighed Average) mode. This feature allows the hygienist to program a pump to start and pause itself throughout a workday. Because the TWA mode maintains the required flow rate throughout an extended period it is recognized as the most accurate method of collecting samples, and therefore the most likely to indicate the presence of hazardous particles however momentary.

Another clever feature of the TUFF Pro's programming is delayed monitoring which lets the pump be setup, uploaded and then handed over to another technician to carry out the actual on-site testing when nearer the required testing time. In addition, the pump has on-board data logging for up to 100 runs that can be downloaded to Casella's Pump Manager(TM) software for analysis. In addition, the TUFF Pro incorporates an "Intelligent Charge Indicator" that acts much like a fuel gauge in a car to show remaining run time at a selected flow rate.

Full Line of TUFF Pumps

Casella used its global design expertise to offer TUFF pumps in three basic variations - from a standard model to its TUFF Plus to the top-of-the-line TUFF Pro. The wide variety of available options results in the entire TUFF family numbering 43 unique pump configurations. All TUFF personal air sampling pumps incorporate true volumetric flow control circuitry providing precise control over sample rates/volumes. A wide flow range from 500 ml/min to 4.5 l/min makes TUFF pumps perfect for sampling of fumes, asbestos and other particulates. Plus, the addition of a low-flow adapter facilitates flow rates as low as 5 ml/min for sampling for gasses and vapors.

One TUFF Pump

With a gasket sealed casing and rubber over-molding, Casella TUFF pumps are a perfect choice for even the most unwelcoming of industrial and construction environments. The IP54 rated case protects against the ingress of unwanted moisture and dust, while its high-visibility run/fault LEDs make it possible to read information in poorly illuminated areas, such as a warehouse or an interior construction jobsite.

Power for TUFF pumps is provided by one of two optional rechargeable 4.8V NiMH battery packs - the standard capacity 1.7Ah battery pack for use when light weight is more important than extreme run time, or the extended-run 2.7Ah battery pack which provides up to 34 hours of run time.

Casella TUFF air sampling pumps meet EN1232 and NIOSH 0600 requirements for personalized sampling pumps in workplace environments, and are pending approval for IEC Ex, ATEX and UL listing as being intrinsically safe.

For more information, please call 800-366-2966 or email info@casellausa.com. On the web at www.casellausa.com.

ABOUT CASELLA CEL

Founded in 1799 and headquartered in the United Kingdom, Casella CEL is one of the world's leading suppliers of environmental monitoring technologies. It is an ISO 9001-2000 and ISO 14001 certified company with a focus on the development and manufacture of state-of-the-art environmental monitoring instrumentation. Casella CEL instruments are preferred around the world for personal air sampling, real-time dust and particulate measurement, heat stress measurement, IAQ assessment, weather and rainfall monitoring, personal noise dosimetry, environmental noise measurement and real-time frequency analysis. In 2006, Casella CEL was acquired by Ideal Industries, Inc. For more information, please visit www.casellameasurement.com.

Casella USA is the North American subsidiary of Casella CEL and is headquartered in Amherst, New Hampshire. Sales, service and instrument recalibrations are carried out in the Amherst office by factory trained engineers. This office covers all sales in Canada, the USA and Mexico. For additional information, please visit www.casellausa.com.

®2010 Casella CEL. All product names and trademarks belong to their respective owners. Information in press releases, including without limitation product, specifications, and contact information, is current on date of the release, and is subject to change without notice. Reseller prices may vary.

Casella USA | 17 Old Nashua Road, #15 | Amherst | NH | 03031

More from Architectural & Civil Engineering Products