Air Sampling Equipment can be scheduled using timer.
Press Release Summary: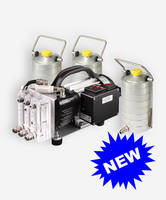 Air Sampling Equipment is available in 2 models for analyzing asbestos and microbe samples with air sampling rate of 10 and 100 L / min respectively. Offering two points simultaneous sampling, asbestos sampling equipment is operated with different sampling times, volumes of air and filters. Using six-stage viable Andersen-type cascade impactor method, microbe sampling equipment can collect three samples from different spaces without mixing them.
---
Original Press Release:
Powerful and Precise Equipment for Indoor Air and Asbestos Sampling
Kytola Instruments is introducing their extremely powerful and precise equipment for analysing asbestos and microbe samples. The equipment enables microbe analysis to be carried out as required by law, as well as asbestos analysis for renovation projects in accordance with legislation. The equipment is manufactured by Kytola Instruments at its factory in Finland.
The asbestos sampling equipment can be operated with different volumes of air, different filters and different sampling times. A powerful pump sucks in air, for example 10 liters (L) per minute, allowing the most commonly used 600-liter (L) sample to be taken in one hour. The sample is taken from one point, but we also offer two points simultaneous sampling as option. The entire operation can be scheduled using a timer (option).
The microbe sampling equipment utilises the six stage viable Andersen-type cascade impactor method. A vacuum pump sucks in the air to be sampled at a rate of 100 liters (L) per minute. The equipment can take samples from three separate spaces simultaneously without mixing the samples. This unique feature gives remarkable advantages in sampling as it is very fast compared to other sampling equipment on the market. The microbe sampling equipment can also be scheduled using a timer, allowing the operator to focus on other tasks while the sampling is in process.
Both pieces of equipment are easy to use and reliable. The equipment is already used widely in Finland by occupational health and safety officials. Our customers also include the largest municipalities, many indoor air laboratories, engineering firms that carry out construction planning and companies that inspect the condition of properties. Our asbestos sampling equipment is also sold to companies that carry out renovations, the primary customer group being asbestos removal companies.
The sampling equipment is delivered to customer fully calibrated. Kytola Instruments also services its equipment and carries out scheduled calibrations. The components used in the sampling equipment offer the same durability, quality and precision as industrial measuring equipment. Thanks to the design of the equipment and our advanced manufacturing techniques, however, these products are among the most affordable on the market today while at the same time being fast, precise and reliable.
Contact:
Kytola Instruments, Inc.
900 Old Roswell Lakes Parkway, Suite 120
Roswell, GA 30076
More from Communication Systems & Equipment