Air Quality Station measures gaseous pollutants to ppb level.
Press Release Summary: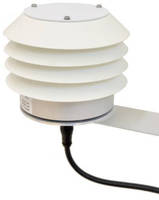 Weighing less than 1 kg, E4100 measures up to 4 gases – CO, NO, NO2, SO2, H2S, O3, and VOCs – in addition to such basic weather data as humidity, atmospheric pressure, and temperature. Particle counter, also available, includes particle measurements PM 2.5 and PM10 for particles smaller than 2.5 and 10 µm dia. All measurement data can be sent to Web-based database or proprietary systems via wireless Internet connection.
---
Original Press Release:

Envitems Launches the First Air Quality Station Costing under $2,000



The next generation air quality stations are compact, lightweight and inexpensive



TAMPERE, Finland -- Envitems, a cleantech company specializing in air quality, launches a new product, Envitems E4100 air quality station. The new Envitems product is small in size, weighing less than a kilogram. It is also inexpensive, starting from under 2,000 US dollars. The engineers and product developers at Envitems have achieved all this without compromising quality or measurement accuracy, as E4100 measures gaseous pollutants to the parts-per-billion level.



The E4100 air quality station measures up to four gas measurements per product - CO, NO, NO2, SO2, H2S, O3 and VOCs - as well as basic weather data, such as humidity, atmospheric pressure and temperature. The product is also available with a particle counter, which includes particle measurements PM 2.5 and PM10, for particles smaller than 2.5 and 10 micrometers in diameter. The measurement data can be sent to a web-based database via wireless Internet connection. Users can also wirelessly download data recordings to their own systems.



Envitems E4100 air quality station is appropriate for many applications. It is ideal for research and monitoring of urban air quality. It is also perfect for voluntary air quality monitoring projects for companies and environmental consulting firms, and because of its reasonable pricing, Envitems E4100 is great for smart building automation systems.



"The new Envitems product is revolutionary, compact and cost-effective. We are very excited about its design and how we have managed to reduce the price for the buyer. We believe that E4100 brings new opportunities for us here at Envitems but also other systems integrators," states company CEO, Eero Alkkiomaki.



Envitems products can be bought from the company's website, www.envitems.com.



About Envitems Inc.

Envitems is a privately owned Finnish company specializing in air quality measuring instruments. The company is an instrument manufacturer with extensive experience in the electronics industry and the cleantech sector. Envitems designs and manufactures air quality stations that are used to measure the pollutant gas and particle content of ambient air, while also providing customers with associated data services.



Contact:

Eero Alkkiomaki, President and CEO

Envitems Inc.

Kuninkaankatu 22 A

FI-33210 Tampere

Finland

+358 20 734 7702

Email

More from Printing & Duplicating Equipment