Air Products to Build, Own, and Operate Two New ASUs for Eastman's Coal Gasification Facility in Kingsport, Tennessee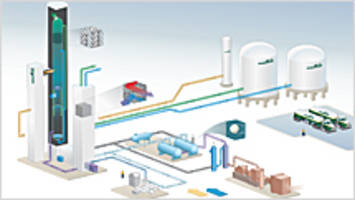 New Long-Term Agreements Extend 35-Year Industrial Gas Supply Relationship
LEHIGH VALLEY, Pa., Oct. 31, 2018 /PRNewswire/ -- Air Products (NYSE: APD), a leading global industrial gases company, today announced it will build, own and operate two air separation units(ASUs) to provide oxygen and nitrogen to Eastman's facility in Kingsport, Tennessee under new long-term agreements. The ASUs are targeted to be onstream in early 2021.
The units to be constructed will replace Air Products' 35-year-old ASUs operating at the Kingsport facility. The new ASUs will continue to serve Air Products' established merchant customer base and growing merchant markets including metals processing, medical, chemicals and food with liquid oxygen, liquid nitrogen and liquid argon.
"Eastman has been a customer for three-and-a-half decades and we are thrilled to extend this relationship with new long-term agreements.  We strive daily to provide excellent customer service and we believe this extended relationship is a demonstration of that effort. The new facilities will serve Eastman for years to come and will also allow Air Products to supply its current merchant industrial gas customers and build its merchant market client base with additional liquid product capacity," said Marie Ffolkes, Air Products' President-Americas.
Air Products has been supplying Eastman in Kingsport since 1983, when Eastman started up the first coal gasification facility in the United States to produce chemicals from syngas.  Eastman's Kingsport facility is one of the largest chemical facilities in North America. The new ASUs will provide Eastman with a long-term reliable supply of oxygen and nitrogen for their gasification process and chemicals operations.
About Air Products
Air Products (NYSE:APD) is a world-leading Industrial Gases company in operation for over 75 years. The Company's core industrial gases business provides atmospheric and process gases and related equipment to manufacturing markets, including refining and petrochemical, metals, electronics, and food and beverage. Air Products is also the world's leading supplier of liquefied natural gas process technology and equipment.
The Company had fiscal 2017 sales of $8.2 billion from continuing operations in 50 countries and has a current market capitalization of about $35 billion. Approximately 15,000 passionate, talented and committed employees from a diversity of backgrounds are driven by Air Products' higher purpose to create innovative solutions that benefit the environment, enhance sustainability and address the challenges facing customers, communities and the world. For more information, visit www.airproducts.com.
About Eastman
Eastman is a global advanced materials and specialty additives company that produces a broad range of products found in items people use every day. With a portfolio of specialty businesses, Eastman works with customers to deliver innovative products and solutions while maintaining a commitment to safety and sustainability. Its market-driven approaches take advantage of world-class technology platforms and leading positions in attractive end markets such as transportation, building and construction and consumables. Eastman focuses on creating consistent, superior value for all stakeholders. As a globally diverse company, Eastman serves customers in more than 100 countries and had 2017 revenues of approximately $9.5 billion. The company is headquartered in Kingsport, Tennessee, USA, and employs approximately 14,000 people around the world.
NOTE: This release may contain forward-looking statements within the safe harbor provisions of the Private Securities Litigation Reform Act of 1995. These forward-looking statements are based on management's reasonable expectations and assumptions as of the date of this release regarding important risk factors. Actual performance and financial results may differ materially from projections and estimates expressed in the forward-looking statements because of many factors not anticipated by management, including risk factors described in the company's Form 10K for its fiscal year ended September 30, 2017.
SOURCE Air Products
CONTACT: Media Inquiries: (Air Products) Art George, tel: (610) 481-1340; e-mail: [email protected]; (Eastman) Brad Belote, tel: (423) 229-8801; e-mail: [email protected]; Investor Inquiries: (Air Products) Simon Moore, tel: (610) 481-7461; e-mail: [email protected]
Web Site: http://www.airproducts.com