Air Powered Motor Vises Utilize Push-to-Connect Air Fittings
Press Release Summary: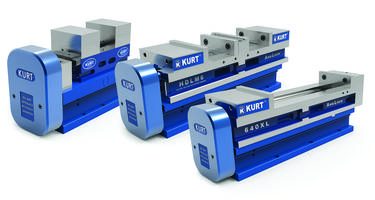 Kurt's Air Powered Motor Vises are designed for automated, robotized cells and applications. These units are operated on 20-100 PSI and the clamp force is achieved by using air FRL setting. The vises can be mounted to tables or fixtures with the help of sine keys and ½ in. bolts. Units come with optional encoder or double start thread motor and 3mm proximity sensor.
---
Original Press Release:
Kurt Introduces Air Powered Motor Vises For Automated, High Precision Clamping
Minneapolis, Minnesota: Kurt's new line of motorized air vises provides an industry first in utilizing air powered motors to provide consistent preset clamping force and programmable vise opening if desired. These vises are ideal for automated, robotized cells, and applications requiring consistent clamping not easily attained by manual operation.
Using an optional 3mm proximity sensor, the Kurt air powered motor vise is easily set to open and stop precisely at preconfigured positions. Operates on 20-100 PSI and clamps to stall. Desired clamp force is attained through an air FRL setting. The vises utilize push-to-connect air fittings for easy set-up, and mounts to tables or fixtures using sine keys and ½-inch bolts. Additional options are available for adding encoder for programmability or double start thread motor option to increase stroke speed.
This air motor option is available on most Kurt vises including the all-new DX6 vise, plus many Kurt single station vises, double station vises ranging in sizes of 4, 6 and 8-inch models and is also available on smaller vise models such model SCMX420.
For more information call in USA and Canada, 1-877-226-7823. Outside USA and Canada, call 1-763-574-8309. Email: workholding@kurt.com See at www.kurtworkholding.com
Kurt Manufacturing Company, Industrial Products Division, 9445 East River Road NW, Minneapolis, Minnesota 55433. In USA, Fax 1-877-226-7828. Outside USA, Fax 1-763-574-8313.
More from Electronic Components & Devices