Air Operated Diaphragm Pumps handle high viscosity liquids.
Press Release Summary: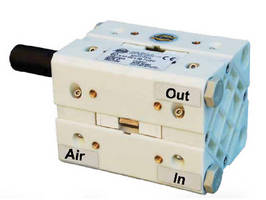 Featuring max flow rate of 4.49 gpm for pressures up to 99.7 psi, CU15 Series is available in polypropylene with max temperature of 140°F or ECTFE with max temperature of 203°F. Miniature units do not require lubricated air and feature stall-prevention pneumatic system to assure safe running. Pumps have self-priming dry capacity of 9.84 ft, even with considerable suction head. Designed for applications with high humidity, CU15 Series is ATEX certified for potentially explosive atmospheres.
---
Original Press Release:
New CU15 Miniature Air Operated Diaphragm Pump Features Maximum Flow Rate of 17 LPM (4.49 GPM) for Pressures up to 70 M (99.7 PSI)
Designed for applications having high humidity or potentially explosive atmospheres.

Hudson, MA — Clark Solutions introduces the CU15 Series Miniature Air Operated Diaphragm Pumps. Ideal for pumping liquids with very high viscosity, including those containing suspended solids, CU Series Miniature Diaphragm Pumps are available in a range of component materials to facilitate optimum chemical compatibility. 

Available pump body materials include polypropylene (PP) with maximum temperature of 60°C (140°F), or ECTFE with a maximum temperature of 95°C (203°F).  The CU Mini Diaphragm Pumps are designed for applications with high humidity, and are also ATEX certified for potentially explosive atmospheres

CU Mini Diaphragm Pumps do not require lubricated air and feature a stall-prevention pneumatic system to assure safe running. These pumps have self-priming dry capacity of 3 meters (9.84 ft.), even with considerable suction head.  In addition, CU Series pumps offer fine tuning of speed without pressure loss and resist damage resulting from dry operation.  

Clark Solutions has a fifty-year history of providing unique solutions to the control, measurement, and monitoring of flow, energy, pressure, force, and level in liquids and gases.  Located in Hudson, Massachusetts, the company offers a wide variety of pumps for liquids, gases, and air, including diaphragm pumps, piston pumps, rotary vane pumps, gear pumps, peristaltic pumps, impeller pumps, centrifugal pumps, and bellows pumps.  Instrumentation offerings include devices to record, monitor, and control flow, velocity, pressure, temperature, humidity, level, gas concentration, energy, and other properties.  Clark Solutions also provides a wide range of valves, including pneumatic valves, inert isolation valves, solenoid operated valves, valve actuators, pinch valves, manifold valves, ball valves, globe valves, butterfly valves, needle valves, and miniature and subminiature valves. 

For more information, contact Clark Solutions, 10 Brent Drive, Hudson, MA 01749, Tel. 978-568-3400, Fax 978-568-0060, email [email protected], or visit our web site at http://www.clarksol.com.

Product URL: http://www.clarksol.com/html/model-cu15-pump.cfm