Air Nozzle delivers 23 lbf when mounted 12 in. away from target.
Press Release Summary: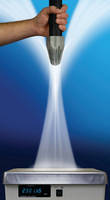 With aerodynamic design that directs air to single point of convergence, Large Super Air Nozzle(TM) maximizes entrained airflow and force while reducing compressed air use and noise. It meets OSHA noise levels and safe operation requirements and can be installed on ordinary open pipe. Constructed of zinc aluminum alloy, nozzle consumes 460 scfm of air at 80 psig. Uses include blowing heavy materials over long distances as well as and wide area blowoff, drying, and cooling.
---
Original Press Release:

Single Super Air Nozzle(TM) has the Force of 30 Nozzles



EXAIR's new Large Super Air Nozzle(TM) has been engineered to maximize entrained airflow and force while reducing compressed air use and noise. The aerodynamic design directs the air to a single point of convergence, delivering 23 pounds of strong blowing force when mounted 12" away from the target (30 times that of ordinary air nozzles). It is ideal for blowing heavy materials over long distances, and wide area blowoff, drying and cooling applications.

The Large Super Air Nozzle can be installed on ordinary open pipe to dramatically cut air consumption and noise. The typical sound level reduction is 20 dBA and it meets acceptable noise levels required by OSHA standard 29 CFR 1910.95(a). It also meets OSHA standard 1910.242(b) for safe operation since the compressed air is ejected from holes that can't be blocked. At 80 PSIG, the air consumption is 460 SCFM. Other sizes of the Super Air Nozzles are available with forces ranging from 8.1 ounces to 15 pounds and air consumption from 8.3 to 300 SCFM.

The zinc aluminum alloy construction of the Large Super Air Nozzle is suitable for rugged industrial applications. It is 1-1/4" NPT with a 4.94" length (3.63" for the female version) and 2" (51mm) hex body for easy installation. Applications include ejection of heavy parts, drying, machine and parts cleaning, chip removal, liquid blowoff, and cooling hot parts. Price is $319.

For more information contact: EXAIR Corporation
11510 Goldcoast Dr.
Cincinnati, OH 45249-1621
Phone: (800) 903-9247
Fax: (513) 671-3363
E-mail: techelp@exair.com
www.exair.com/lgsan.htm

More from Material Handling & Storage