Air Motor features triggerless operation.
Press Release Summary: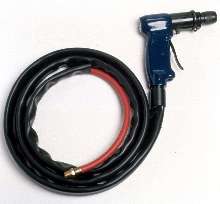 Model 952 features dual-purpose air line: same line that brings compressed air to motor carries exhaust air away. When motor is pushed forward, it automatically shifts into Forward rotation. When operator pulls back, it shifts into Reverse. Motor produces 5 lb-ft of torque for expanding or cutting ¼ to 3/8 in. OD tubes, with maximum speed of 800 rpm. It includes ¼ in. Square Quick Mandrel Connector for attaching and removing tube expanders and tube cutters.
---
Original Press Release:

Triggerless Air Motor Increases Productivity in Tube Expansion and Tube Cutting Operations


Incoming Air AND Exhaust Air Travel through Same Line, Reducing Noise and Operator Stress while Increasing Maneuverability

Long Island City, New York USA--Increasing productivity when expanding or cutting tubes is critical to pressure vessel OEMs and repair companies, since labor is the largest single cost in fabricating or re-tubing a heat exchanger, condenser, chiller, absorber or other small-diameter tubular vessel. The Wilson 952 Air Motor is specifically designed to increase worker productivity AND reduce equipment costs.

o Triggerless Operation: When the Wilson 952 Air Motor is pushed forward, it automatically shifts into Forward rotation. When the operator pulls back, it shifts into Reverse, improving turnaround and, therefore, overall productivity.

o Dual-Purpose Air Line: The same line that brings compressed air to the motor carries exhaust air away, giving the operator added maneuverability, and that also increases worker productivity.

o Remote Exhaust: The dual-purpose air line carries the sound of the exhaust air and any material in the exhaust air, such as oil mist or particles, away from the work area. This reduces operator stress and fatigue, and that further increases productivity.

The 952 Air Motor from Thomas C. Wilson, Inc. is lightweight, yet it is powerful, durable and multi-purpose.

o It produces 5 foot-pounds of torque for expanding or cutting 1/4 to 3/8-inch (6.4 to 9.5mm) OD tubes.

o The 952 Air Motor weighs only 3 pounds (1.4Kg) and is only 6¾ inches (172mm) long, so it is light and maneuverable.

o It comes with a 1/4-inch Square Quick Mandrel Connector, so attaching and removing tube expanders and tube cutters is quick and easy.

o The 952 has a maximum speed of 800 rpm, so it can be used for multiple applications beyond tube expansion and tube cutting.

o The unit includes the dual-purpose air line and Quick Mandrel Connector, so the 952 Air Motor arrives complete and ready to use.

oA set of spare rotor blades is available, so the 952 Air Motor can be easily rebuilt, further increasing productivity AND reducing equipment costs.

o An optional Air Line Filter/Lubricator and motor lubricant, WilsoLube, is available to prolong the air motor's life, reducing down time and improving productivity.

The Wilson 952 Air Motor is just one example of the Wilson family of "Smart Tools" that are available for purchase or rental.

Thomas C. Wilson, Inc. has manufactured tools for the fabrication, repair, cleaning and maintenance of pressure vessels for 70 years. Headquartered in Long Island City, New York, the company services and supports its products through a global network of Authorized Distributors.

For information about the Wilson 952 Air Motor, tube plugs, tube expanders, tube cutters, tube facing tools, tube pullers, air motors, electric and electronic drive units, accessories and pneumatic tools, as well as tube cleaning systems, or to locate an Authorized Wilson Industrial Distributor, contact Thomas C. Wilson, Inc. at: Toll Free: 1-800-230-2636; Telephone: (718) 729-3360; Fax: (718) 361-2872 Internet: tcwilson.com; E-mail: smarttools@tcwilson.com


More from Chemicals & Gases