Air Monitor utilizes infrared technology.
Press Release Summary: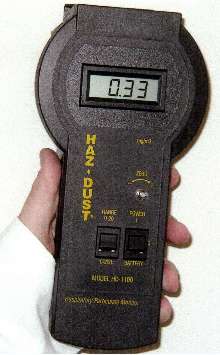 Model HD-1100 Haz-Dust Respiratory Air Monitor is a real-time, light scattering monitor that tests for airborne respiratory particluates. Handheld survey tool can locate and identify hot spots or problem areas, so that further evaluation and suppression control can be implemented. Infrared technology provides accurate and instantaneous data on airborne particulate concentrations, in accordance with NIOSH #0600 method.
---
Original Press Release:
New Haz-Dust Respiratory Air Monitor Model HD-1100

The NEW HD-1100 Haz-Dust Respiratory Air Monitor is a real-time light scattering monitor that tests for airborne respiratory particulates for air quality and industrial hygiene applications. The HD-1100 is a low cost hand held survey tool designed to make it easy to locate and identify any "hot spots" or problem areas. So that further evaluation and suppression control can be implemented. The unique sensor design uses the latest in infrared technology, which provides accurate and instantaneous data on airborne particulate concentrations, in accordance with the NIOSH #0600 method. The HD-1100 can sample
for all types of dusts or aerosols such as lead, silica, welding fumes, coal, wood/paper, cadmium, concrete/cement, nuisance dusts, smoke, dry chemicals, spray paint, ancd many more.

If you would like more information on the HD-1100 or any of our other products please feel free to contact us at any time.

Environmental Devices Corporation

Contact: Melissa Greaves

4 Wilder Drive Bldg. 150 Plaistow, NH 03865

(800) 234-2589 Phone: (603) 378-2112 Fax: (603) 378-2113

Website: www.hazdust.com E-mail: customerservice@hazdust.com
More from Sensors, Monitors & Transducers