Air Humidifier fits into existing air handling units.
Press Release Summary: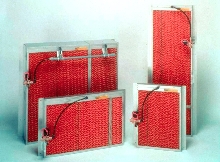 HUMIdek(R) humidifies through direct evaporation of water into air. Through its use of solenoid/flow valves, system delivers precise humidity control. Evaporation media surface also acts as sound attenuator. HUMIdek comes with 4 in. of UL 900 flame rated GLASdek media, which meets NFPA 90A codes.
---
Original Press Release:
Munters Introduces Humidek(R) Evaporative Humidifying System Designed To Solve Winter Humidity Problems

Dry winter air can lead to health problems resulting in absenteeism and loss of job productivity. The static electricity that is generated in dry surroundings can be detrimental to computers and other office equipment and cause costly downtime. A dry atmosphere also can lead to cracking, peeling and warping of walls and furniture.

The Systems Division of Munters Corporation now offers the HUMIdek® evaporative humidifier to solve winter humidity problems and improve indoor air quality. The system's modular design can be retrofitted directly into an existing air handling unit.

Unlike many energy inefficient systems, HUMIdek humidifies the air as nature intended - through direct evaporation of water into the air. Through the use of solenoid/flow valves, the compact system delivers precise humidity control. The evaporation media surface doubles as an effective sound attenuator, improving the indoor environment.

The ideal range of relative humidity for optimum human health is between 40 percent and 60 percent RH. Within this range, the effects of bacteria, viruses and fungi are minimized, leaving a desired environment for respiration.

Each HUMIdek module comes in a kit that will fit directly into an existing air handling unit. These modules are mounted directly after the heating coils. Because of its slim design and minimal weight, HUMIdek modules are easily installed in most air handling systems.

Once installed, the HUMIdek module regulates itself. By varying the amount of water that is introduced to the media, the air is humidified evenly and precisely. The modules come with four inches of GLASdek media with minimal pressure drop. GLASdek media is UL 900 flame rated and meets NFPA 90A codes. The HUMIdek humidification module is designed to operate in unison with the whole ventilation system and does not require gas or electricity. The only operating costs are the once-through water.

The HUMIdek is designed to be a once through system with virtually no maintenance required. A regular annual inspection of the evaporative surface and the flow control valve is optional but recommended.

HUMIdek is compatible with all recirculating and makeup air systems.

Headquartered in Fort Myers, Fla., Munters Systems Division manufactures mist eliminators, tower packings and evaporative cooling wet sections for a wide range of industrial and commercial applications including electrical power generation, pulp & paper and pollution control industries. Munters Corp. is the world's largest manufacturer of air treatment systems, providing equipment that humidifies, dehumidifies and cools air, controls emissions and dries water damaged environments. Munters America has operations in more than 30 locations throughout the United States, as well as in Argentina, Brazil and Mexico. Its parent company, Munters AB, is headquartered in Sweden and has operations in Europe, Asia, Africa and Australia.
More from Materials