Air Hoe Drills offer depth control for seed and fertilizer.
Press Release Summary: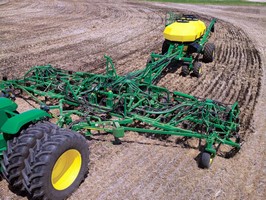 John Deere 1870 Air Hoe Drills feature Conserva Pak independently controlled hydraulic shank opener that enables placement of fertilizer up to 4 in. away from seed and up to 6 in. deep. Rigid, 3-rank frame allows opener to follow contours and flex with field conditions to deliver seed at prescribed depth. Available in 3-section 40 ft and 5-section 56 ft models, machines feature under-rank clearance of 22.5 in. and 36 in. space between openers.
---
Original Press Release:
1870 Air Hoe Drills Introduced by John Deere Feature Conserva Pak(TM) Hydraulic Shank Openers for Precise Depth Control
LENEXA, KS (July 19, 2007) - Adding to an already extensive line-up of air-seeding tools, John Deere now provides customers an efficient, environmentally-friendly seeding solution with hydraulic-tine technology on the new 1870 Air Hoe Drills. John Deere 1870 Air Hoe Drill "Growers told us they wanted an air-seeding tool with very accurate seed and fertilizer placement," says Steve Detrick, project manager, John Deere Seeding Group. "We invested in new technology, the Conserva Pak hydraulic shank opener, which does an exceptional job in placing seed and fertilizer at a more accurate and consistent depth. The result is more accurate placement of fertilizer, reduced seed, fertilizer and input costs, and consistent, uniform emergence throughout the field for higher yields. This translates to a greater potential for improved income, while optimizing conditions for responsible stewardship of the soil." The 1870 Air Hoe Drill is available in two widths, the three-section 40-ft. model, and the five-section 56-ft. model. Transport width for both models is 20 feet. A rigid, three-rank frame provides strength and support for even and consistent depth and yet allows the openers to follow contours and flex with field conditions deliver the seed at the prescribed depth. "The real story on the 1870 seeders is the independently controlled hydraulic shank opener, Conserva Pak, which enables the placement of nitrogen, phosphorous, potassium, and sulfur-based fertilizers up to four inches away from the seed," explains Detrick. "This positive vertical and horizontal separation of fertilizer and seed eliminates seeding damage caused by some fertilizer forms. This translates to more efficient placement of fertilizer, decreased seed damage, and optimized crop yields." The new Conserva Pak shanks use simple and adjustable hydraulic accumulator force for accurate fertilizer placement down to six inches deep, even in variable field conditions. There is low soil and residue disturbance with a very positive closing system by the seed opener to ensure good seed to soil contact. John Deere 1870 Air Hoe Drill Opener "University and governmental studies have also shown that direct seeding with the Conserva Pak system reduces wind and water erosion while building organic matter," emphasizes Detrick. "Being able to seed directly into stubble and residue leads to improved storage of moisture from rain or snow, which provides good moisture to the crop. The system is environmentally-friendly while increasing the potential for yields!" This environmentally-friendly system builds organic matter and sequesters CO2. This increases available nitrogen allowing it to be mineralized into a form available to the crop, which means less run-off or leaching. Seed depth consistency is also improved on the 1870 Air Hoe Drills because the hydraulic accumulators permit separate control of down force of the fertilizer shank and the press wheel/seed opener. The Conserva Pak opener achieves consistent depth with an even amount of soil placed over the seed in a single or paired-row setting - even in variable seeding conditions. "Because the 1870 Air Hoe Drill must handle more residue while seeding, we've designed plenty of under-rank clearance, 22.5 inches and plenty of spacing between openers, 36 inches," emphasizes Detrick. "The design of the hydraulic shank also contributes to residue flow by allowing plenty of vertical clearance. Overall, this machine is designed for improved residue flow which assists in consistent, even seeding throughout the field." Another feature is that the easily adjustable openers, with independent downforce can be set between 100 - 800 pounds with a trip clearance to meet seeding conditions. The adjustable breakout force is ideal for rocky conditions. "As another benefit to our customers, we've designed the air seeding packages to be fully compatible with all Green Star 2(TM) precision guidance and map-based prescription seeding, fertilizing, and field documentation systems," concludes Detrick. "These systems, integrated with the Conserva Pak hydraulic shank openers, give us the most productive and environmentally-friendly air hoe drills we've ever designed and built." For more information, visit our Web site at www.JohnDeere.com/Ag or contact your local John Deere dealer. John Deere (Deere & Company - NYSE: DE) is the world's leading provider of advanced products and services for agriculture and forestry and a major provider of advanced products and services for construction, lawn and turf care, landscaping and irrigation. John Deere also provides financial services worldwide and manufactures and markets engines used in heavy equipment. Since it was founded in 1837, the company has extended its heritage of integrity, quality, commitment and innovation around the globe.
More from Mechanical Power Transmission