Air Gaging Column eliminates need for PC.
Press Release Summary: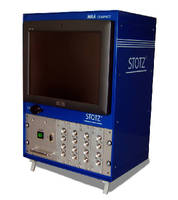 Designed for high-production, tight tolerance parts, MRA Air/Electronic Column integrates measurements and SPC data without PC. System features 12 in. touch screen and 4 bays that allow electronic cards or air-electronic cards to be inserted. With each card able to host 4 measurements, MRA can simultaneously measure 16 air, 16 electronic, or any combination of both signals. Operating from 110 V, 19 in. rack-mountable device includes Ethernet, USB, serial, and digital I/O ports.
---
Original Press Release:

Breakthrough Technology Found on New Air Gaging Column



Eliminates the need for a PC to integrate measurements and SPC data; result is lower overall cost for the user

Freeport, IL-Stotz USA, LLC, a leader in air gaging products and quality system integration, is pleased to announce the introduction of the MRA Air/Electronic column. It is the newest and most advanced column on the market, to date. The target application for this unit was a low cost SPC device that incorporates air gaging and electronic gaging into a simple design. The MRA completely eliminates the need for a PC in combining measurements and SPC data, thereby resulting in a substantially lower overall system cost for the user. As with all Stotz air gaging devices, this new column is designed specifically for use on high-production, tight tolerance parts.

According to the manufacturer, there is no comparable device on the market, as the MRA integrates more measurements and more SPC data than any other system available without a PC add-on.

The MRA features an easy-to-read 12" touch screen. The actual part can be displayed with all relevant points of measurement shown onscreen. Programming to the column is done using either the touch screen or remotely with computer software. There are 4 bays in the front of the column that allow either electronic (LVDT-half bridge) cards or air-electronic cards to be inserted. Each card is able to host 4 simultaneous measurements. This means that each MRA device is able to simultaneously measure 16 air, 16 electronic or any combination of both signals. Units can be combined for a maximum of 5 devices in a master/slave setting. This would allow up to 80 simultaneous measurements. Each column has the ability to store up to 99 individual programs and the combination of the 80 simultaneous measurements with the 99 individual programs means that users will quite simply never run out of measurement capability, according to the manufacturer.

The MRA can seamlessly integrate into a user's quality system. It has several interface connections including Ethernet, USB ports, serial ports and a digital I/O port. The Ethernet connection allows the column to write the measurement data directly onto a file server. It can also be used to create a web page that can be viewed in real time on the browser of choice, anywhere on a network. The USB can be used to store the data on a thumbdrive. The serial ports allow the user to send data to SPC software via an RS232 output. The unit has an SPC program built into it, but this feature further allows users to output the data to an SPC program, if desired. The digital I/O is designed to handshake with external devices such as robots or other equipment in automated work cells.

The MRA is a 19"H rack-mountable device, which operates on standard 110V power with auto-switching capability for 220V use in the European and other markets.

Stotz has been a leader in gaging technology for almost 60 years. We are constantly striving to improve our designs and develop new products to solidify our position as a leader in measuring technology. The Stotz customer base consists of manufacturers and suppliers in the automotive, aerospace and medical industries.

For more information:

STOTZ USA, L.L.C.

773 West Lincoln Street

Suite 204

Freeport, IL 61032

Phone: 815-297-1805

Fax: 815-297-8274

Email: info@stotz-usa.com

Attention: Chris Koehn, President

More from Optics & Photonics