Air Filters feature self-sealing, leak-free design.
Press Release Summary: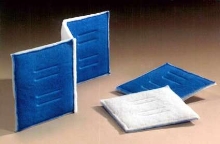 Designed with layers of multi-denier polyester fibers, Activator Series ring panels and links capture particles throughout filter's depth. Units come in 2, 3, and 4-ply models to meet requirements of MERV 6, 7, and 8, respectively. Media layers are heat-sealed around 9-gauge internal wire frame with cross wire supports to hold media in place. Tackified adhesive is applied to air-leaving side of each panel to prevent particle migration downstream.
---
Original Press Release:
"Activator" Combines Self-sealing, Leak-free Filter Design, Easy Installation

August 8, 2005. Louisville, KY. Airguard has introduced Activator Series ring panels and links. Activator Series air filters have multi-stage media construction: layers of multi-denier polyester fibers capture particles throughout the filter's depth. This prevents wasteful "face-loading," increases dust holding capacity and maximizes the service life of the filter.

Activator Series filters are manufactured in 2, 3 and 4-ply models to meet the requirements of MERV 6, 7 and 8, respectively. Media layers are heat-sealed around a robust, 9-gauge internal wire frame. Cross wire supports welded to the frame enhance strength in service, and hold the media firmly in place. (Activators can be installed with cross wires in vertical or horizontal orientation.) Faces of panel filters are free of any airflow obstruction because perimeter frames and support grids are not needed.

Activator Series filters are highly moisture resistant. The "air-leaving" side of each panel is applied with a tackified adhesive to prevent particle migration downstream. Most notable is that it is permanent, and will not dry-out or blow-off, even over time. Panels are self-sealing and leak-free; - no dirty air bypasses an Activator panel!

Activator ring panels and links are ideal for general filtration, as prefilters, and as standalone, single-stage filtration. They are ideal for built-up frame banks, side access systems and rooftop air handlers. They are an easy and economical upgrade from fiberglass or synthetic framed disposables, and are well-suited to provide air supply for commercial paint spray booths. Activators are rated for continuous use up to 220°F.

Activator Series filters were engineered for instant installation: just push the filter into the frame; no clips or latches needed. Their low profile design permits compact packaging, too, so even shipping and storage is as "lean" and efficient as possible.

They are available in a variety of standard sizes, in both pre-cut panels and links. Activator Series panels are classified U.L. Class 2 per U.L. Standard 900. Class 1 panels are also available.

Airguard, PO Box 32578 Louisville, KY 40232. 800-999-3458 www.airguard.com. Or email malbag@airguard.com
More from Electronic Components & Devices