Air Filter targets commercial and industrial HVAC markets.
Press Release Summary: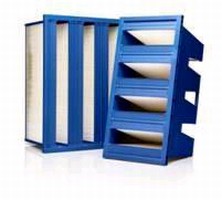 Utilizing Hybrid Membrane Technology with nanofiber filtration media, MERV 16 rated V-Bank Air Filter delivers greater than 95% efficiency in demanding .3-.5 micron range and greater than 97% in 0.3-1.0 micron range. Pressure drop is less than 0.5 in. of water. Featuring impact-resistant frame design with non-metal components, filter eliminates potential for corrosion.
---
Original Press Release:

DuPont Nonwovens Introduces New MERV 16 Premium Air Filter for Commercial and Industrial HVAC Markets



Filter Uses DuPont Hybrid Membrane Technology to Provide Superior Particle Capture and Improved Efficiency

WILMINGTON, Del., Nov. 6, 2007 - DuPont Nonwovens today expanded its line of existing V-bank HVAC filters with the introduction of a new MERV 16 rated filter featuring its award winning Hybrid Membrane Technology (HMT) nanofiber* filtration media. The extended surface filter from DuPont delivers low initial pressure drop and outstanding filtration efficiency without the diminishing performance of electrostatically charged media for the commercial and industrial marketplace.

The MERV** 16 filter from DuPont delivers superior particle capture - greater than 95 percent efficiency in the demanding .3 to .5 micron range and greater than 97 percent in the 0.3-1.0 micron range. It also boasts a very low pressure drop (less than 0.5" of water), allowing building owners to benefit from cleaner air along with reduced energy consumption.

"Today's sustainable buildings require that both energy efficiency and indoor air quality needs are met with a percentage of recirculated 'conditioned' air along with the introduction of 'fresh' outside air. Both air streams, laden with a wide variety of particulates, require high efficiency filtration to ensure optimal indoor air quality," said Jeff Granato, global business development manager -- HVAC Filtration. "The MERV 16 filter from DuPont combines extreme clean air quality and low energy usage to create a filter unique in the high efficiency air filter category. The result is a lower cost, more energy efficient alternative when a HEPA filter may be more than what is needed."

The MERV 16 filter joins a line of existing V-Bank filters from DuPont that includes MERV 14 and MERV 15 rated filters. All of the filters feature a lightweight, impact resistant frame design with non metal components that eliminate the potential for corrosion. The complete line of V-Bank filters will be on display in the DuPont booth (#1142) at the Greenbuild International Conference and Expo, taking place Nov. 7-9, 2007 at the new McCormick Place West Building in Chicago.

For additional information about MERV 14, 15, and 16 V-Bank filters, how they help contribute to LEED credits or to become an authorized distributor, visit www.hybridmembrane.dupont.com.

DuPont HMT, comprised of continuous sub-micron polymeric filaments, provides a long-awaited option to fill the performance gaps between microporous membranes and traditional nonwovens. The technology uses a proprietary spinning process that creates a membrane-like nonwoven sheet structure to deliver next-generation functionality across a wide range of microfiltration applications. In addition to improving the flux/barrier performance for air and liquid filtration applications, DuPont HMT adds breathability and protection to bedding and apparel products and can significantly improve safety, durability and energy performance in a variety of battery and capacitor applications. DuPont HMT recently received a prestigious IDEA Achievement Award at The International Engineered Fabrics Conference and Expo.

DuPont - one of the first companies to publicly establish environmental goals 18 years ago - has broadened its sustainability commitments beyond internal footprint reduction to include market-driven targets for both revenue and research and development investment. The goals are tied directly to business growth, specifically to the development of safer and environmentally improved new products for key global markets.

DuPont is a science-based products and services company. Founded in 1802, DuPont puts science to work by creating sustainable solutions essential to a better, safer, healthier life for people everywhere. Operating in more than 70 countries, DuPont offers a wide range of innovative products and services for markets including agriculture and food; building and construction; communications; and transportation.

More from Material Processing