Air/Filter Regulators, Lubricators enhance AODD operation.
Press Release Summary: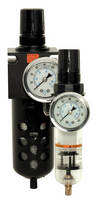 Air Filter/Regulators and Lubricators feature liquid-filled pressure gauge as well as accessories such as lockout valves and mounting bracket kits. Developed for Air Operated Double Diaphragm (AODD) pumps, point-of-use Air Filter/Regulators help reduce maintenance and lower operating expenditure. Products will help prevent dirty, wet, and contaminated compressed air from decreasing performance of AODD pump.
---
Original Press Release:

SANDPIPER Launches New and Improved Line of Air/Filter Regulators and Lubricators



MANSFIELD, Ohio – SANDPIPER, a leading brand in the world of Air Operated Double-Diaphragm (AODD) pumps, recently launched a new and improved line of Air Filter/Regulators and Lubricators.



Features of the improved product line include a liquid filled pressure gauge as well as a full line of accessories such as Lockout Valves & Mounting Bracket Kits. These reliable point-of-use Air Filter/Regulators have been specifically developed for Air Operated Double Diaphragm (AODD) pumps to reduce maintenance and lower operating costs. For additional information, review the Air Filter/Regulator flyer located on the SANDPIPER website, www.sandpiperpump.com.



The addition of a Filter/Regulator will help prevent dirty, wet and contaminated compressed air from decreasing the performance of your AODD pump. SANDPIPER recommends the use of a Filter/Regulator with every pump.



"An Air Filter/Regulator is probably the most important investment that you can make to extend the life of your Air Operated Double Diaphragm pump and optimize performance" says Justin Dill, Product Manager.



The launch of the new line of Air Filter/Regulators and Lubricators included a new flyer, a convenient cross reference guide, updated service manuals and data sheets. Visit www.sandpiperpump.com to review these materials.



About Warren Rupp, Inc.

Warren Rupp, Inc. is a leading manufacturer of air operated double diaphragm (AODD) pumps. Engineered solutions for various industrial markets are offered through Blagdon, Pumper Parts, Versa-Matic and SANDPIPER. Products are sold worldwide through a network of independent, factory-authorized distributors.



For more information, contact Warren Rupp, Inc., 800 N. Main Street, Mansfield, Ohio 44901. Phone: 419.524.8388. Or, visit www.sandpiperpump.com

More from Materials