Air Filter provides high efficiency.
Press Release Summary: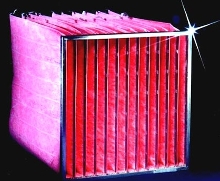 Multi-pocket Hi-Flo® uses Controlled Media Spacing (CMS) to minimize pocket-to-pocket contact and keep pockets aligned. Filter promotes uniform airflow and full utilization of its microfine fiber glass media, which ensures low resistance to airflow and consistent submicron particle capture. Available in 4 efficiencies, MERV 9, 11, 13, and 14, based on ASHRAE 52.2, it removes fumes, smoke, bacteria, fungi, virus-bearing droplet nuclei, and atmospheric impurities.
---
Original Press Release:
New Pocket Air Filter Offers Extended Life, High Efficiency Performance

Riverdale, N.J., August 2002 - Camfil Farr has introduced an updated multi-pocket air filter that combines high ASHRAE-grade efficiency with extended service life and dependable performance. The "Hi-Flo®" extended surface air filter is the only product to use Controlled Media Spacing (CMS) that minimizes pocket-to-pocket contact and keeps the pockets perfectly aligned, resulting in uniform airflow and full utilization of the media. This design eliminates the performance problems sometimes associated with bag filters - delivering lower life cycle cost, easier maintenance, reduced system horsepower requirements, and less wear-and-tear on equipment.

The Hi-Flo filter is available in four efficiencies: MERV 9, 11, 13 and 14 based on ASHRAE 52.2 (40-45 percent, 60-65 percent, 80-85 percent and 90-95 percent, based on ASHRAE 52.1). It can remove contaminants such as fumes, smoke, bacteria, fungi, and virus-bearing droplet nuclei. It is also ideal for removal of pollens, paper dust and other atmospheric impurities.

The Camfil Farr Hi-Flo filter uses an exclusive microfine fiber glass media to ensure low resistance to airflow and reliable efficiency, including consistent submicron particle capture. A mesh media backing provides support in turbulent or varying airflows. Filter performance is unaffected by dust loading and/or humidity. The product is available in a variety of configurations including three to 12 pockets, depths of 15" to 36", and up to 120 sq. ft. of effective media area.

For further information, call (973) 616-7300, fax (973) 616-7771, or write to Camfil Farr Marketing Dept., One North Corporate Dr., Riverdale, NJ 07457; e-mail literature@camfilfarr.com; Web site www.camfilfarr.com.

In Canada, call (450) 629-3030, fax (450) 662-6035; or write to Camfil Farr, 2785 Frances Hughes Ave., Laval, Quebec H7L 3J6, e-mail literature@camfilfarr.com; Web site www.camfilfarr.com

More from Chemicals & Gases