Air Cushioning Devices minimize damage from shock.
Press Release Summary: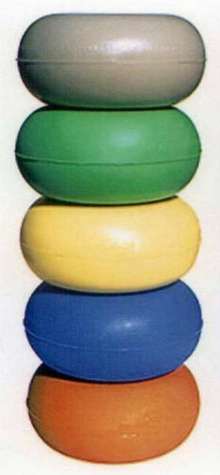 Skid-Mate® air-filled doughnuts perform as pallet runners or load feet for lift truck or pallet jack entry. They attach to any platform, pallet, or product base with one bolt and protect against shock and vibration damage. Available in 5 color-coded load ranges, doughnuts support weights from 20-225 lb per pad, depending on color. Polyethylene products, with temperature range of -40 to +130°F, measure 5¾ in. in diameter and 2 7/8 in. high.
---
Original Press Release:
Riding On Air Minimizes Shock Damage
Air cushioning devices that can perform dual duty as pallet runners or load feet for lift truck or pallet jack entry are being introduced by Hardigg Industries, Inc. Skid-Mate® is the name of the unique air-filled doughnuts that attach to any platform, pallet (or directly to product bases) with a single bolt. The low-priced devices provide a high level of protection from shock and vibration damage. Skid-Mate® cushions are available in five (5) bright color-coded "load-range" choices: o Tan 20-35 lb. (9.6-15.9 kgs.) per pad, designated Model #35-630-035T o Green 30-50 lb. (13.6-22.7 kgs.) per pad, designated Model #35-630-050T o Yellow 45-80 lb. (20.4-36.3 kgs.) per pad, designated Model #35-630-080T o Blue 70-125 lb. (31.8-56.7 kgs.) per pad, designated Model #35-630-125T o Orange 125-225 lb. (56.7-102.0 kgs.) per pad, designated Model #35-630-225T (A minimum of four (4) cushion pads per unit load would be required, but any number may be applied to suit overall unit load capacity and mounting space configuration possibilities.) The Skid-Mate® "ride-on-air" load cushioning devices are made of polyethylene, a chemically inert material. They are suitable for product damage control or storage applications at -40° F to +130° F (-40° C to +54° C). The units present a low coefficient of friction and are highly resistant to abrasive damage when pushed about on concrete floors. Each of the doughnut shaped devices is 5¾"(146mm) diameter by 2 7/8" (73mm) height. The addition of an available 1 1/8" (28.6mm) thick spacer-disk (#2-020-00509) makes the 4" (101.6mm) final height capable of most pallet jacks worldwide. Skid-Mate® air cushions may be attached to existing pallets or load bottoms using a single 5/16" bolt screwed into the cushion's threaded center or via a 3/8" hex bolt or lag screw. Skid-Mate® is a product of Hardigg Industries, Inc., a Massachusetts, USA based firm, that engineers and manufactures the world's largest selection of shipping and protective cases for diverse applications including cameras, computers, mobile electronics equipment, weapons and tools. Distribution is worldwide. For technical and sales information, please contact: Hardigg Industries, Inc. 147 North Main Street South Deerfield, MA 01373-0201 E-Mail Contact: cases@hardigg.com www.hardigg.com Tel: 800-542-7344 Fax: 413-665-8330
More from Controls & Controllers