Air Curtains come in 16 ft lengths.
Press Release Summary: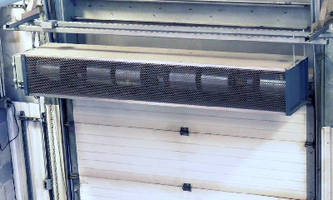 Made of 16 gauge aluminized steel, VS Series provides environmental separation at internal and exterior industrial doorways, preventing energy loss and infiltration of fumes, flying insects, and airborne particulates. Single-construction design of blowers and discharge nozzles allows for even volume, velocity, and uniform airflow across curtain length. With capacities from 14–70 kW and 44,000–238,000 Btu/hr, VTH Venturi heater is positioned outside air stream to avoid impeding airflow.
---
Original Press Release:

Berner Adds Longer Air Curtain Lengths and Its High-Efficiency Venturi Heater Coil to the VS Air Curtain Series



Industrial VS Series now combines 16-foot lengths--the industry's longest single-construction units with optional high performance electric heaters.



Berner International Corp., New Castle, Pa., the leading U.S. manufacturer and innovator of air curtains, has added lengths up to 16-foot-long and the high-efficiency VTH Venturi heater coil to its VS Series air curtains.  The VS Series is designed for environmental separation at internal and exterior industrial doorways; and prevention of energy losses and infiltration of fumes, flying insects and airborne particulates, while improving occupant air comfort and safety.



Both the "made-in-the-USA" VSA and VSB models, which are designed for up to 12 and 14-foot-high doorways, respectively, have been extended to span from a previous 12-foot length capacity to now 13 to 16 feet long, the longest single-construction units in the industry.



The 16-ga. aluminized steel, single-construction units are structurally-robust and need only end supports. Berner extended out to 16-foot spans as modular units constructed of shorter, bolted-together lengths cause inherent airflow gaps between sections and require labor-intensive intermediate mounting supports that potentially obstruct roll-up door mechanisms. The VS Series' single construction design of the blowers and discharge nozzles allow for an even volume, velocity and uniform (VVU) airflow across the entire air curtain length. The elimination of intermediate supports also reduces installation time by at least 10-percent.



Berner's proprietary, thermally-protected VTH design, which ranges from 14 to 70-kW and 44,000 to 238,000-Btu/hr capacities, is more efficient than competing air curtain heaters, because its positioning outside the air stream in the fan assembly doesn't impede airflow. Competing air curtain brands suffer velocity output reductions or an up to 40-percent performance degradation with obstructive heater positioning in the air intake or air discharge, respectively. Conversely, VTH heated air curtains draw heat into the airstream via the fan Venturi and distribute air with the same efficient performance as non-heated models. The positioning also increases serviceability by making heater element replacements a two-minute operation versus other heater positioning methods requiring up to an hour of fan and motor removal for maintenance access.



Other benefits and features include:




Mill aluminum air intake screen and top and bottom access panels provide easy service and maintenance accessibility;



Vertical or horizontal wall-mounting capabilities;



Typical two-year payback or less;



Steam, hot water or indirect gas-fired heating coils are also available for supplementing employee indoor air comfort;



A 60-decibal sound rating makes the VS Series one of the quietest industrial air curtains in the industry;



Factory-installed control panels allow for field-adjusted fan speed, temperature, on/off timer delays and other parameters;



Construction Specifications Institute (CSI) mechanical drawings and BIM models available via www.berner.com;



Unlike some brands, Berner air curtains are factory tested and assembled, which provides for quick and easy installations;



Five-year parts warranty and two-year warranty for heated models;



Air velocity, volume and uniformity specifications for unheated models are third-party certified by the Air Movement & Control Association (AMCA), Arlington Heights, Ill.



For more information on Berner International industrial air curtain products, please visit www.berner.com; call 800-245-4455.



About Berner:

Berner International Corporation is a 57-year-old U.S. manufacturer and a leader in the air door/air curtain equipment manufacturing industry. Berner is a member of the U.S. Green Building Council (USGBC), The Green Building Alliance (GBA), the Air Movement & Control Association (AMCA), the American Society of Heating, Refrigerating & Air Conditioning Engineers (ASHRAE) and also a certified Women's Business Enterprise National Council member (WBENC). For more information on Berner and its products, please call (724)-658-3551 x416 or visit www.berner.com









More from Electrical Equipment & Systems