Air Curtain serves in hazardous industrial environments.
Press Release Summary: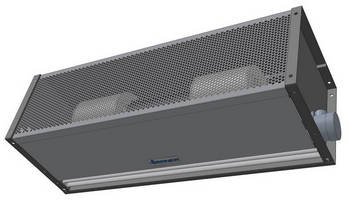 HL Series restricts energy losses as well as infiltration of fumes, airborne contaminants, and flying insects by separating indoor and outdoor environments at open industrial doorways. Offered with 3–16 ft cabinet lengths, ½–15 hp motor ratings, and heavy-duty blowers to protect 6–20 ft high doorways, air curtains feature explosion-proof motors, spark-resistant fans, hazardous location electrical components and construction, and other precautions required by ANSI/NFPA-70 NEC regulations.
---
Original Press Release:

Berner's New HL Series: Industry's Most Comprehensive Industrial Air Curtain Line for Hazardous Locations



Berner International Corp., New Castle, Pa., the leading U.S. manufacturer and innovator of air curtains, has introduced the HL Series, the industry's most comprehensive line of air curtains designed for hazardous industrial environments. The HL Series is designed for petroleum refineries, food processing and pharmaceutical plants, chemical facilities as well as compressed natural gas (CNG) bus garages.



The HL Series features more cabinet lengths and motor horsepower selections than any other brand of hazardous location (HL) air curtains. The product line restricts energy losses and the infiltration of fumes, airborne contaminants and flying insects by separating indoor and outdoor environments at open industrial doorways. The HL Series construction is based on explosion-proof motors, spark-resistant fans, HL electrical components and construction, and other precautions required by ANSI/NFPA-70 National Electrical Code (NEC) regulations. Standard construction complies with Class I, Division 1 and 2, Groups C and D for gases; and Class II, Division 1 and 2, Groups F and G for dust.  Optional construction is available for Groups A and B.



HL Series units are factory-assembled in single length units, from three to 16-feet-long cabinets that don't require intermediate installation supports. The product line also features Berner's proprietary explosion-proof motors ranging from 1/2 to 15-hp. and heavy-duty blowers to protect doorway heights of six to 20-feet-high. Optional steam or hot water coils with a 130°F to 180°F temperature range are available with custom-constructed ANSI/NFPA-70-compliant aluminum chassis.



Berner has custom-built HL-rated air curtains for a variety of industrial clients for more than 20 years, but now the creation of the HL Series with an unprecedented 70 cataloged models offers a standardized product line with relatively short lead times for industrial HL clients.



Field-mounted motor control panels are available for both non-HL locations and UL-classified HL locations. All control panel enclosures for HL locations are NEMA-7,9-rated (National Electrical Manufacturer's Association).  Also available are optional HL NEMA-7 compliant electrical accessories such as a thermostat, door switch, manual start/stop station or a hand/off/automatic switch for mounting with the HL area.



Other HL Series features are:



• Same trusted designs used in 20 years of custom-built HL unit applications for dozens of clients;

• Energy savings by separating indoor/outdoor environments with a typical return-on-investment of two years or less;

• Assembled domestically with the majority of all components and materials being manufactured in the U.S.;

• Easy access to internal components for servicing;

• 100-percent epoxy-coated, aluminized steel cabinets and base frames are standard with optional all stainless steel construction;

• All on-board electrical enclosures, conduit and terminal fittings are NEMA-7 compliant;

• No contact between ferrous metals for spark prevention;

• Assists in ventilation air movement to minimize formation of vapor air pockets in industrial applications;

• Provides chemical-free pest control for food processing and other industries with flying insect sanitation requirements;



The HL Series complements Berner's existing VSA, VSB, CFA, CFC and other industrial air curtains.



About Berner: Berner International Corporation is a 57-year-old U.S. manufacturer and a leader in the air door/air curtain equipment manufacturing industry. Berner is a member of the U.S. Green Building Council (USGBC), The Green Building Alliance (GBA), the Air Movement & Control Association (AMCA), the American Society of Heating, Refrigerating & Air Conditioning Engineers (ASHRAE) and also a certified Women's Business Enterprise National Council member (WBENC). For more information on Berner and its products, please call (724)-658-3551 x403 or visit www.berner.com

More from Architectural & Civil Engineering Products